Alibaba is the king of e-commerce in China, but it is having a hard time replicating that success in the US.
The company is selling 11 Main, a boutique consumer e-commerce site it launched with great fanfare a year ago to OpenSky, a venture capital-backed e-commerce site based in New York, a spokeswoman confirmed to Quartz. The deal was first reported by TechCrunch, which said Alibaba will take a 37% stake in OpenSky.
Alibaba didn't respond to questions regarding the future of 11 Main's  employees or additional details about the deal.
Alibaba's approach to e-commerce in the US has been more tentative than the company's aggressive approach in China, because it is a latecomer in a mature market. After purchasing three startups that helped US merchants sell products on eBay and Amazon, the company financed 11 Main, a new standalone e-commerce site founded by executives from its new companies. While Alibaba provided funding and some guidance, management was mostly hands-off.
In the year since it launched, 11 Main does not appear to have made much of a splash in the US. The company has not disclosed any sales or traffic figures, which probably indicates they aren't much to brag about. A quick browse of the website shows little to differentiate it from the myriad of boutique e-commerce marketplaces in the US hoping to chip away at Amazon, eBay, and Etsy.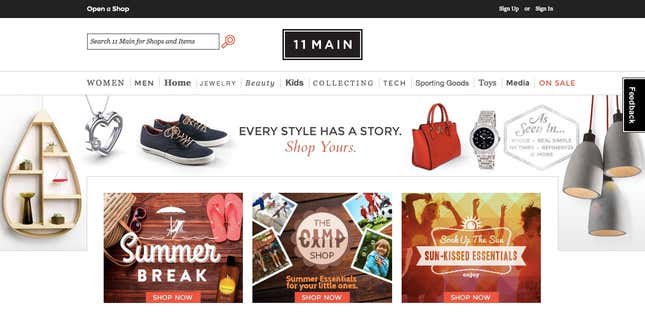 Alibaba said in a statement the sale will "bring together leading services used by over 50,000 of the world's most creative brands and millions of discerning shoppers."
Alibaba has made several other investments in US-based e-commerce companies, most notably in ShopRunner, which competes with Amazon Prime. It has also placed bets on US-centric social apps like Snapchat and Tango that have exceeded the $100 million mark.
But the company's future in the states increasingly looks dependent on Taobao and Tmall, its flagship Chinese properties. Jack Ma recently conducted a grand tour of the US, encouraging American merchants to sell their goods online to China. There, a rising middle class is demanding a diverse range of high-quality goods that can't be found domestically. Alibaba's best American asset, it seems, is Alibaba itself.