Last week, we argued that Tesla's most disruptive product might not be its cars.
Today, Morgan Stanley has provided further detail around this thesis, which is gaining increased traction on Wall Street. Tesla shares have soared about 13% this morning and are trading at fresh highs.
In a note published this morning, the investment bank posits that Elon Musk's electric car company, which will unveil its plans to build  the world's biggest lithium-ion battery pack facility this week, is poised to disrupt the $1.5 trillion electric utility industry. Tesla doesn't just make high-performance automobiles, Morgan Stanley analyst Adam Jonas argues, it's also producing a mobile fleet of electrical grid storage.  The 40,000 Tesla vehicles already on the US roads contain about 3.3 gigawatts of storage capacity, roughly 0.3% of US electrical production capacity and 14% of US grid storage, he estimates. 
By 2028, Morgan Stanley (which, it must be said, is among the most bullish of all Wall Street banks when it comes to the car company) estimates there will be 3.9 million Tesla vehicles on US roads. They will have a combined energy storage capacity of 237 gigawatts, some 22% of today's US production capacity and nearly 10 times larger than all US grid storage that exists today.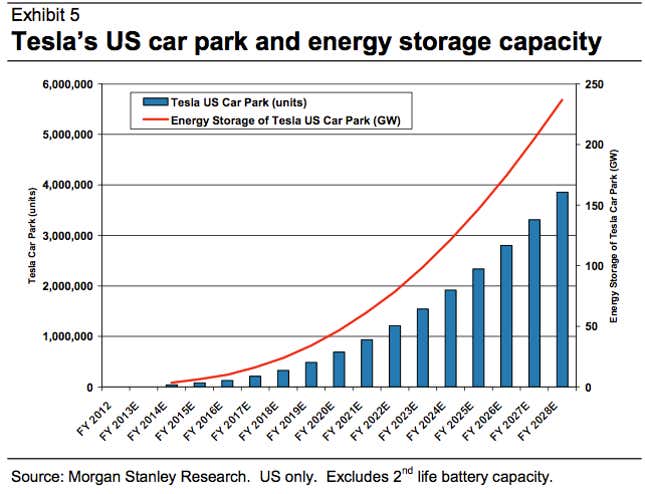 Tesla's "giga-factory," where the lithium-ion battery packs will be produced, will probably cost $1 billion to build, Morgan Stanley estimates. But there will be myriad opportunities for the company to reap returns from that investment beyond sales of its own cars.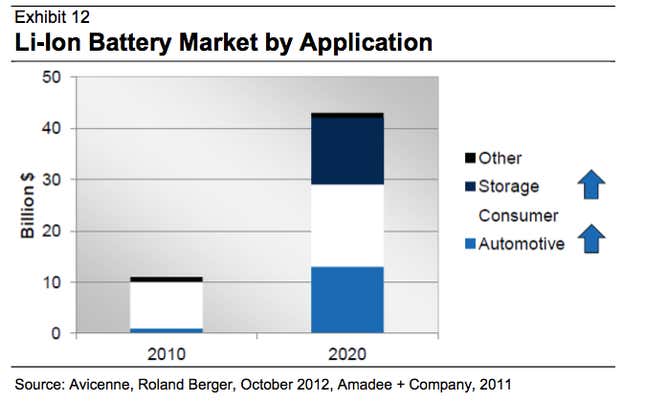 Plenty of questions remain about Telsa's competency in the field of battery production and energy storage. At the moment, Tesla's batteries are produced by Panasonic, which some expect to be a partner in the giga-factory.  At any rate it's worth remembering that multiple battery fires last year sparked a federal probe into the company. (There were no injuries, and Musk has forcefully argued that there is "absolutely zero doubt that it is safer to power a car with a battery than a large tank of highly flammable liquid.")
Last week a Barron's report  (paywall) said Tesla's lofty valuation "exceeds fundamental reasoning." But if Tesla really can become the world's low-cost producer in energy storage, as Morgan Stanley predicts, then maybe it's not so insane, after all.