"We believe the days when Tesla was known as purely an auto company are numbered," declared Morgan Stanley analysts in a note this week, after the electric car maker reported another set of stellar results.
Endless column inches have chronicled how Elon Musk's electric car company is disrupting the auto industry and making inroads into the luxury car market (especially on America's West Coast). But the true impact of its technology may reach far beyond America's roads. The way forward, Tesla is betting, is in producing its own batteries.
Next week the company will detail plans for its "giga-factory," where it will produce the lithium-ion batteries needed for its next line of cars. This won't be just any factory. It could be the biggest battery-making facility in the world. It will be "heavily powered" by renewable sources of energy, such as wind and solar, Musk said on Tesla's earnings call, and will have the capability to recycle old battery packs.
Tesla has much to gain by building the facility. Firstly, it will help speed up car production. And it should also help sales. It will lead to a "major reduction" in the cost of Tesla's battery packs and enable the company to build an affordable, mass-market electric car within three years, Musk said. At the moment, the main thing restricting Tesla's skyrocketing sales (see below) is the supply of battery cells.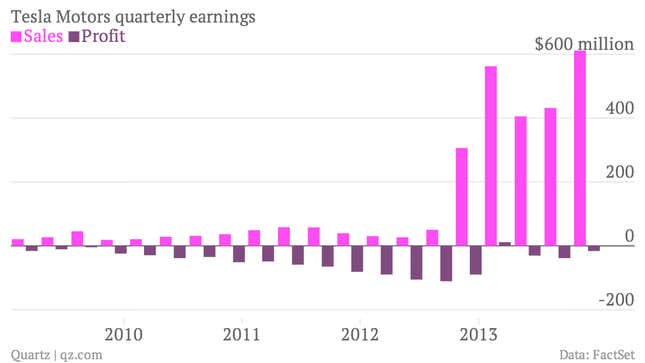 That alone might sound exciting enough. But the mass production of Tesla's lithium-ion batteries could enable their use to power all sorts of activities beyond cars. It's already happening; Telsa's batteries have been used to store electricity from rooftop solar panels in California, for example.
Dougherty & Company analyst Andrea James (who has a buy recommendation on shares of Tesla) mentions grid storage, military operations and unmanned aerial vehicles as potential future applications for the batteries. "In our view, Tesla has always essentially been in the cell business," she said in a note.
Morgan Stanley, which also is bullish on the stock, is even more ebullient. "We are witnessing the most disruptive intersection of manufacturing, innovation and capital experienced by the auto industry in more than a century," gushed analyst Adam Jonas in a note. "Tesla may be in position to disrupt industries well beyond the realm of traditional auto manufacturing. It's not just cars."