T-Mobile CEO John Legere was at it again today, taunting AT&T.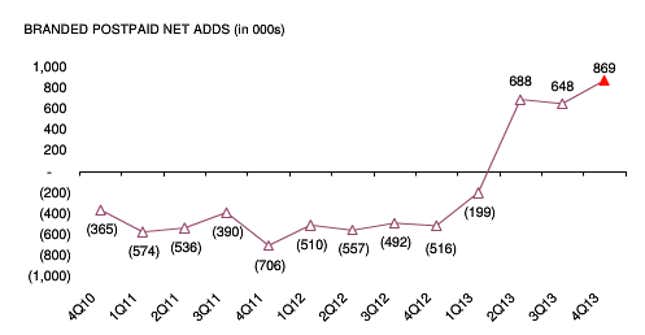 The subscriber additions aren't a surprise because the company revealed them back at the Consumer Electronics Show in January. That and a deeper financial loss explain why T-Mobile shares have sunk by nearly 6% today.
But Legere's bravado is not without foundation. The company's earnings call today revealed some encouraging longer-term trends for the company, which suggest T-Mobile is shaking off some of the stigma Americans have long attached to it.
At the end of 2012, 57% of its customers on financing plans for their phones had "subprime" credit scores, based on the company's own credit methodology. That proportion fell to 46% at the end of 2013.
Two thirds of the customers that have taken up its offer to buy out their early termination fees if they switch across from another carrier also have "prime" credit scores. The company also revealed that  its fourth-quarter customer additions in the small to medium business segment were up 53% from a year ago. During the quarter, T-Mobile launched its small-business friendly, free international roaming plans. Those and other consumer friendly initiatives are certainly boosting the carrier's customer base, if not yet its profits.