Not that long ago, T-Mobile was the laughing stock of America's wireless telecommunications industry. Its network was still stuck in the pre-smartphone era, its customer service was considered shoddy, and its handset line-up was woefully inferior to those of its rivals (incredibly, it wasn't until last April that the company even began selling Apple's wildly popular iPhone.)
How quickly things can change. Suddenly, T-Mobile is back in fashion, with both consumers and investors. Its share price has nearly doubled over the past 12 months, in part driven by expectations it will soon be bought out by Sprint and its Japanese owner, Softbank, or even the satellite company Dish Networks, but also because of its improved performance. As the below chart from Morgan Stanley shows, after 10 straight quarters of mass customer defections, it's now adding new subscribers hand over fist.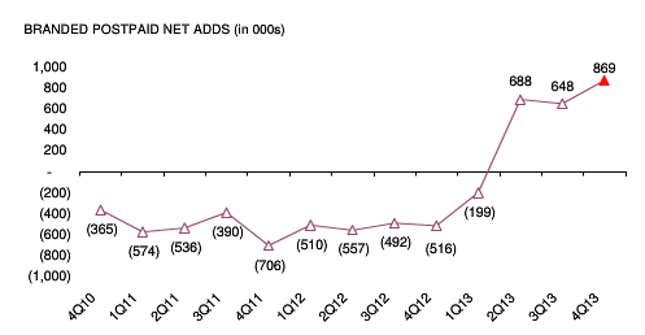 To what does the company owe this remarkable turnaround? A mixture of luck, clever marketing, and the kind of CEO salesmanship rarely seen in the relatively boring world of telecoms.
The luck (for wireless customers and not necessarily T-Mobile's owners) came in late 2011 when rival carrier AT&T's bid for the company collapsed under the weight of regulatory opposition. T-Mobile walked away with $6 billion in break fees (payments made by a bidder when a deal falls through) made up of $3 billion in cash, and $3 billion worth of spectrum, the airspace needed to transmit data over mobile networks, which would later prove handy in the company's resurgence. 

Things began to change dramatically when John Legere, heretofore a staid and unremarkable telecoms executive best known for running wholesale network operator Global Crossing, was hired as CEO in September 2012.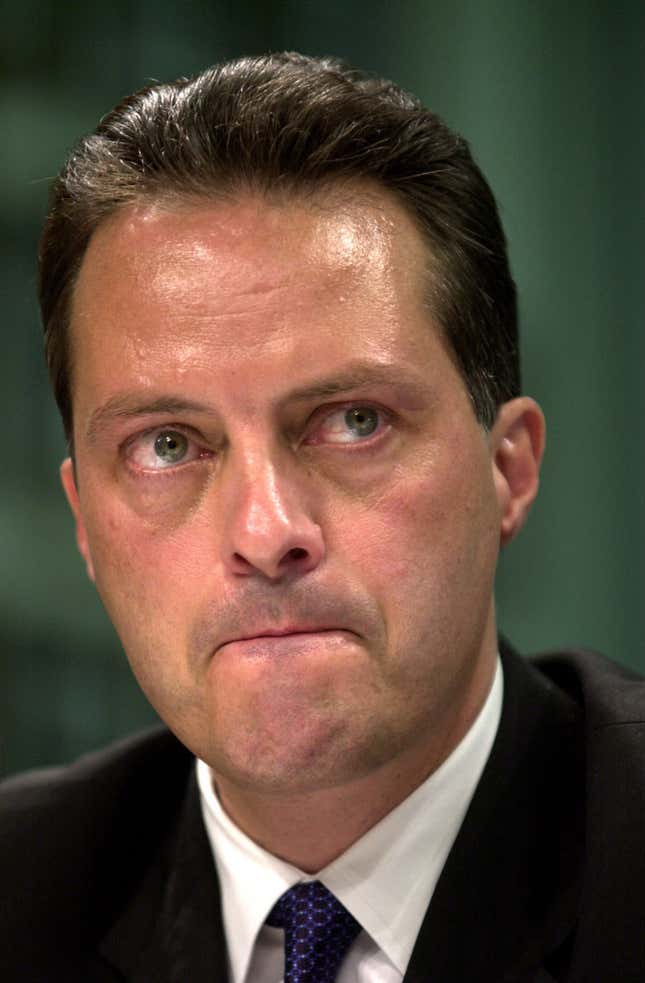 Within a month the company had agreed to merge with the equally struggling MetroPCS, giving it even more spectrum to beef up its network capacity. In March last year, Legere unveiled a bold set of new strategies, which he cleverly branded under the "Uncarrier" moniker – which tries to position T-Mobile as the anti-telco, and the phone company of choice for the youth market. The company switched on 4G LTE services in major cities(T-Mobile was the last of the big four carriers to activate the superfast mobile technology incorporated into most modern smartphones), started selling Apple products, and crucially, simplified its pricing.
Legere explained his pricing philosophy in an interview with the New York Times last year, saying that his aim was to remove the lack of transparency in phone bills caused by hidden subsidies for handsets, the unpredictability stemming exceeding from data caps, and the inflexibility that comes from two-year contracts. Now, in T-Mobile's new plans, the cost of a smartphone is entirely separate from the cost of data and calls. Customers aren't locked into two-year contracts and can depart for another carrier at any time. Finally, calls, texts and (technically) even data are unlimited, so that people don't get nasty shocks when their monthly bills come in.  (T-Mobile plans still feature data allowances, but once they are exceeded, download speeds are "throttled", or slowed down, rather than extra charges being levied).
But the innovations didn't stop there. In October, T-Mobile launched new global data plans that offer free unlimited data in 115 countries outside of the US (albeit, at slower speeds; normal speed costs extra). Then, last week, T-Mobile started offering to pay up to $650 in early termination fees for any customer switching across from a rival carrier.
Consumers are responding favorably. The company revealed at the Consumer Electronics Show in Las Vegas last week that it added 1.65 million customers in the last three months of 2013, its best quarter in eight years. "T-Mobile's better-than-expected [customer] additions all clearly indicate that its un-carrier strategy continues to resonate with subscribers," Barclays analysts wrote in a research note this week. "We see little on the horizon that could materially derail the carrier's underlying subscriber momentum."
Celebrity meltdowns aside, Legere arguably stole the show at CES when he crashed AT&T's event party. After being escorted out by security, he claimed he was only there to see Macklemore perform. Legere's own transformation is almost as remarkable as the company's. These days, he's rarely seen in anything other than sneakers, jeans and his trademark pink T-Mobile shirt, usually sipping Red Bull—a far cry from his besuited peers.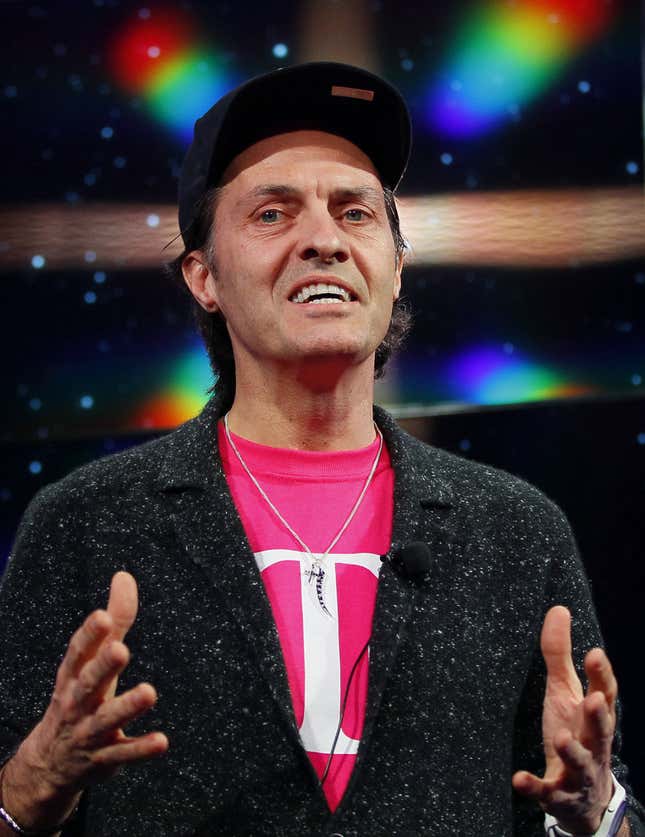 Everything he does seems to be aimed at promoting T-Mobile as youth friendly. One of his first acts at the company was to overturn a ban on retail staff with visible tattoos and piercings. He's one of America's most active major CEOs on Twitter, and on both social media and traditional media, he's not afraid to criticize his competitors. At CES, he described the shared family data plans invented by Verizon as "one of the biggest evils in the industry," AT&T as a "source of amusement," and Sprint, which might eventually end up owning T-Mobile, as "completely horrible."
Just how all of this is going down with T-Mobile's owner, Deutsche Telekom, remains unclear. The stodgy telco, 32% owned by the German state, has made it clear that it would like to sell T-Mobile and exit the US market. But the more competitive T-Mobile gets, the less likely antitrust regulators are to sanction a sale of the company to a rival carrier.
And serious challenges remain. Analysts are fearful that T-Mobile's competitive spirit will trigger a race to the bottom on prices, and obliterate industrywide profits. Meanwhile, the latest survey of network quality by JD Power, released in August, found that T-Mobile's coverage was still below average in all six regions of the US (it ranked last in the mid-Atlantic and joint last in the West). Even though T-Mobile's claims of having America's fastest network have some merit, the belief that its coverage is patchy and in many places outside cities, absent, is proving hard to change.
T- Mobile recently spent $2.4 billion buying high-quality, low-frequency spectrum from rival Verizon, which it will use to build out its LTE coverage beyond  the major cities.  But it will take time for these improvements to be completed.
In this sense, Legere's in-store tattoos and piercings and competitor-taunting seem like easy changes. Altering consumers' long-held perception about T-Mobile's network quality will be the part that takes real mojo.