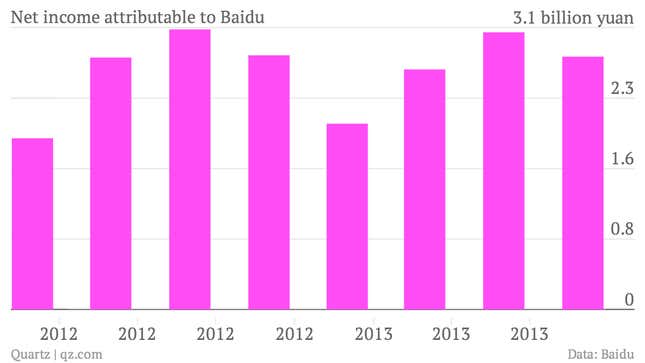 The numbers: China's largest internet search engine, Baidu, reported net income of 2.78 billion yuan ($459.9 million) in the fourth quarter, in line with analyst expectations but slightly lower than net income a year earlier. The bright spot in its report was that revenue exceeded expectations, jumping 50% to 9.5 billion yuan. Baidu shares rose 6% after the results came in.
The takeaway: Baidu—which controls some 70% of the Chinese search engine market—is facing increased competition from other Chinese search engines like Qihoo 360, which has quickly gained market share since its 2012 launch. To keep ahead, Baidu has been diversifying through acquisitions. In the past year, Baidu bought app store 91 Wireless Websoft for $1.9 billion, a video streaming site for $370 million, and the group buy site Nuomi for $284 million. Chief executive Robin Li said the company was prepared to make yet more acquisitions in 2014.
What's interesting: Baidu has been trying to figure out how to make money from its its mobile platforms given that an increasing number of Chinese access the internet on their phones—and where rival Tencent's WeChat app reigns supreme. (Of China's 618 million internet users, about 500 million went online via their cell phones as of December.) Li said that mobile accounted for 20% of the company's revenues last quarter—up from 10% in the second quarter, but that still leaves a long way to go.