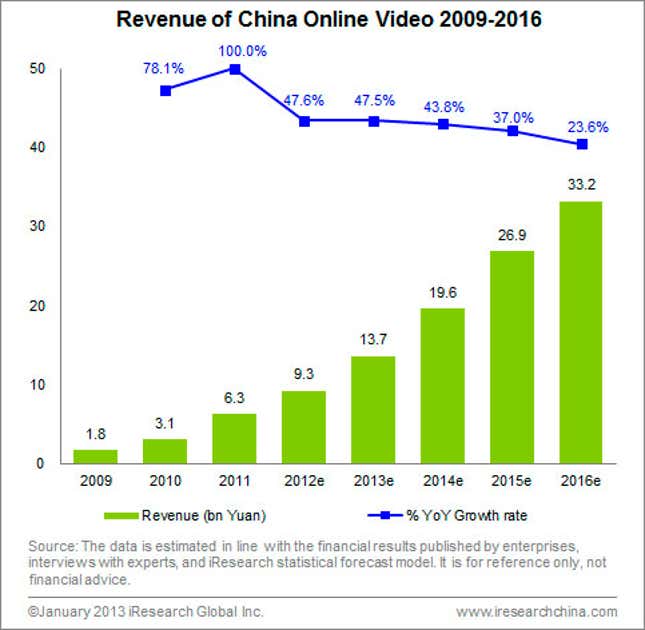 China's internet is dominated by a few heavyweights. Baidu rules search, Alibaba owns e-commerce and Tencent is hard to beat at messaging. But online video—the field that, elsewhere in the world, is dominated by Google's YouTube—remains up for grabs. Baidu just came one step closer to claiming the prize.
Baidu confirmed today that it has acquired PPStream, a peer-to-peer video streaming site, for $370 million. Combining this with iQiyi, a video site Baidu launched in 2010, means that China's search giant will command the largest share of online videos watched in China, or so Baidu claims. (Youku-Todou, two streaming sites that merged last year, is not so sure about that assertion.)
Baidu is bullish on video streaming. It bought out its partner in iQiyi late last year to take control of the service. It's easy to see why. Chinese television has little to offer by way of entertainment (paywall) to an increasingly cosmopolitan population. And the explosion of mobile phones and tablets in China has made it easier than ever to watch video—and more appealing than sitting hunched in front of a computer. Video and search are the most popular online services in China, comfortably beating out social networking.

But perhaps the biggest reason China's giants—like those everywhere—are circling around video is that it is increasingly where the big advertising money is flowing. Revenue from online video in China is expected to grow to 33.2 billion yuan ($5.4 billion) in 2016, up from 6.3 billion yuan in 2011, according to iResearch, a Chinese consultancy. Most of that will come from advertising.
That's because advertisers pay a lot more for video ads than simple text or picture ads, which internet users are good at ignoring. Indeed, Facebook, which has little to offer by way of video, is about to clutter your timeline with auto-playing video ads (paywall), for which it will charge only a little bit less than television broadcasters do. That may sound ridiculous, but a recent Nielsen survey found that online video ads leave an even more lasting impression on viewers than broadcast ads. At least, until they learn to ignore those too.