The "Flying Kangaroo," as Qantas Airlines is known, has announced its largest cutbacks in 20 years, including laying off 5,000 staff and a six-month loss of $226 million. CEO Alan Joyce is asking the Australian government for state aid due to "some of the toughest conditions Qantas has ever seen."
Specifically, Qantas is getting killed by competition from Virgin Australia, a fast-growing, money-losing budget airline controlled by three other so-called flag carriers—Air New Zealand, Etihad Airways of the United Arab Emirates, and Singapore Airlines.
Qantas's fate is being echoed across Asia and around the world, as Emirates, Qatar Airways, and Etihad expand into new territories, and low-cost carriers (LCCs) like Air Asia, Southwest, Easyjet, and Ryanair fight aggressive fare wars against their older rivals.
Competing against cheap
In Asia, LCCs are soaking up most of the region's expanding passenger base—the fastest-growing in the world, thanks to the region's emerging middle class—and accounted for 24% of Asian flights in 2012, according to analysts with Standard Chartered (pdf, pg. 3.) By 2015, this number will hit 30%. In Southeast Asia, LCC growth is even more dramatic: they accounted for almost half of all seats in 2012, according to the Center for Asia Pacific Aviation.

Flagship carriers like Qantas have tried to get ahead of the game by creating their own low-cost entries, like Cathay Pacific's Dragon Air and ANA's Peach Aviation. But in many cases this only cannibalized their own flagship sales, and led to pricing wars for seats—all while trying to compete with the lean and efficient LCCs.
Airlines from oil country
As flag carriers in Asia and beyond battle the LCCs, countries from the Persian Gulf are growing dramatically—helped, their critics say, by state subsidies that allow them to add new routes, invest heavily in new equipment, and weather fare wars. Executives from Emirates and other Middle East airlines have denied they're receiving any hidden subsidies, and dismiss the accusations as "political rhetoric."
They are growing swiftly, nonetheless. In the five years to 2012, Etihad and Qatar Airways doubled their flights, while Emirates grew by more than 50%, according to airline research firm Innovata, and more than tripled their capacity to the US. In the 10 years until 2013, the three have increased their share of international air market from 2% to 11%—and they plan to keep expanding.
The three carriers ordered scores of planes at the Dubai Air Show in November, including a record-setting $99 billion in orders from Emirates. The region's outstanding orders total more than 75% of the number of planes currently in service, according to the Centre for Aviation. "They want to take over the world," Richard Aboulafia, an aviation analyst at the Teal Group in Fairfax, Va., told The New York Times.
In Asia, the three have grown their routes substantially: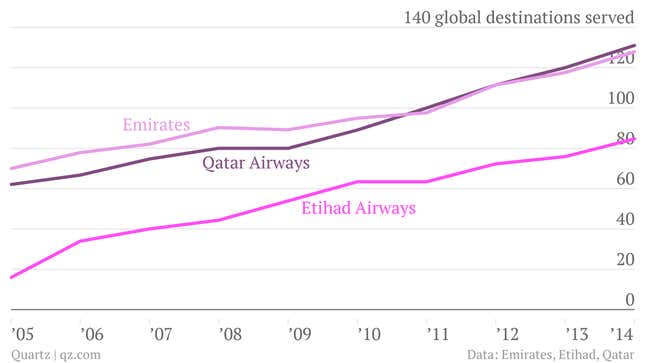 The flagships are sinking
The one-two punch of LCCs and Middle East competition has been particularly tough on Asia's flagship carriers, who only recently enjoyed near-monopolies in their domestic markets.
Cathay Pacific's first half profit of just $3.1 million missed analyst's estimates by nearly $100 million, thanks to falling demand for its higher-priced seats and a drop in business travel in Asia. Even having state backing isn't enough sometimes. Singapore Air's profits dropped 65% in the three months to Dec. 2013, and it described its future outlook as  "challenging."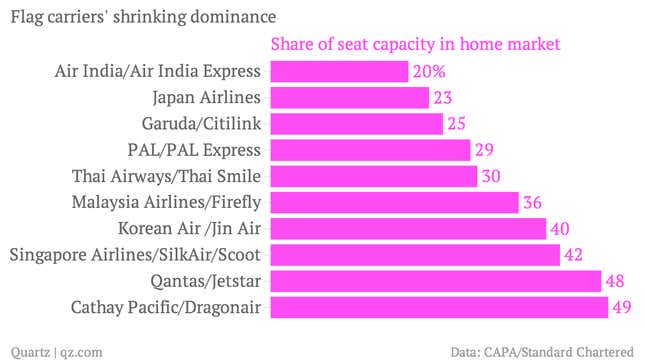 Analysts from the Centre for Asia Pacific Aviation called the cuts Qantas made Feb. 27 "over-due changes." But they also warned that there is "probably more to come."