For a Silicon Valley accelerator focused on funding digital technology, Y Combinator has always been stubbornly committed to doing things in person.
Every founder admitted to the prestigious startup accelerator is required to move to Silicon Valley for the duration of a three-month program, which culminates in a "demo day" where each startup has the chance to pitch more than 1,000 investors. It's a critical moment for the founders; for most of them, there's no better opportunity to raise the early-stage money they need to grow their businesses.
This year, because of Covid-19, Y Combinator moved its latest demo day online. The decision was made out of necessity but, like so many other things that the coronavirus has affected, it could end up having permanent effects. Y Combinator has a strong incentive to ensure that this year's batch of startups receives as much funding as previous years. If it can figure out how to do a demo day remotely, it could alter the way startups around the world pitch investors.
Today's startup funding is heavily clustered in a small number of cities. In the US, nearly 40% of venture capital dollars go to the San Francisco Bay Area; the top 20 cities together account for 88%. And while the share of venture capital funding going to companies outside the US has been rising, it's still highly concentrated, in cities like Beijing, Shanghai, and London.
Part of the reason for the concentration is the nature of the venture capital industry, which is built around in-person interaction. VCs want to meet the founders they back, and be able to check in on them. One study found that startups were more likely to succeed when they were a direct flight away from their investors, evidence of the value of regular, in-person check-ins between investors and startups. In-person meetings have remained the norm for startup funding even as online platforms like Angellist have made it easier for investors and founders to connect online.
Now, coronavirus is putting pressure on founders to do more business virtually—including fundraising. If this winter's Y Combinator batch succeeds at raising money, it could signal that remote investing is viable. That might open up opportunities for countless startups not based in venture capital hubs like San Francisco, New York, or Boston.
Y Combinator's accelerator involves three months of dinners, office hours, pitch sessions, and other opportunities for startup founders to get feedback from entrepreneurs, investors, and each other on their ideas. Typically, investors attend demo days at Y Combinator and other accelerators in person, to hear presentations from founders like this one. But this year, Y Combinator's demo day didn't include presentations. Instead, it revolved around a website stocked with slide decks and summaries describing every startup in the cohort.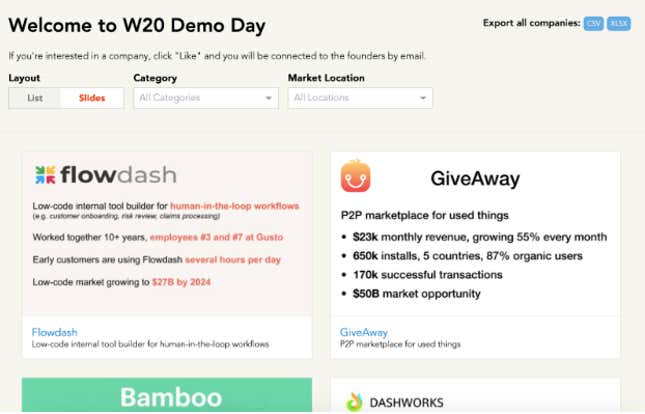 "Investors for years have been asking for more written content," says Michael Seibel, CEO of Y Combinator—so when forced to do its demo day remotely, the accelerator decided to give it to them.
The demo day website is set up so that when an investor "likes" a company, they're connected to the startup by email. So far, the site has generated 16,000 connections between the 197 companies and 1,600 demo day "attendees," a pre-screened group of investors and journalists.
Y Combinator isn't the only organization changing how it serves startups because of the coronavirus. CIC, a Boston-based company that provides shared office spaces for startups around the world, hosts a weekly event on Thursday nights called VentureCafe, where entrepreneurs describe what they're working on, service providers pitch their offerings, and founders share best practices.
Last Thursday, 200 people from CIC's Rotterdam office joined a virtual version of VentureCafe, complete with virtual breakout rooms for small-group discussions on topics like marketing, data, and design thinking. "People are really liking it," says Melissa Ablett, head of new centers at CIC. (Disclosure: Ablett and I were colleagues at a startup seven years ago.) The success of the event has prompted her team to consider how else it might facilitate online networking between tenants—including those at different locations.
Creative Destruction Lab, an accelerator headquartered at the University of Toronto, doesn't require founders to relocate in order to attend its program. But it does convene five in-person sessions, in which participants and mentors can get to know each other. It's about to do its first of these convenings remotely, because of Covid-19.
The lab's founder, Ajay Agrawal, a professor at the University of Toronto, says that because founders in the current cohort have already met their mentors, holding the sessions remotely ought to be manageable. He's less confident about how it would go without any in-person interactions at all. "How it works if you've never met the person and only do online is a question that I think is still open," he says. Research he has done suggests that digital communication complements in-person relationship-building, but is not a replacement for it.
While there are some aspects of in-person meetings that are hard to match online, virtual fundraising presents opportunities for innovation, too.
At a typical Y Combinator demo day event, startup founders pitch in a predefined order. Someone has to go first, and someone has to go last. On the demo day website, however, the order of the startups is randomized, to even out any benefit from being at the top of the site. So far, Seibel says YCombinator is seeing a more even distribution of investor interest than in previous years. Seibel says there are other "positive repercussions," including making demo day more accessible to international investors, who no longer have to fly to California to attend.
Sanctuary, a robotics company Agrawal co-founded, recently improvised when a prospective investor canceled a visit to the company because of the pandemic. The team at Sanctuary instead made them a video, showing them around the headquarters and explaining how their technology worked. The investor, who is still deciding whether to invest, told the team they'd be asking for such a video from every company seeking funding from them in the future. "We never would have even thought of doing that before this situation," says Agrawal.
More virtual innovation could be necessary. So far, Y Combinator has said its summer accelerator is still happening, though this year interviews will be done remotely. "We have not experimented with a remote batch as of yet," Seibel says. "We'll see what coronavirus does, [but] it's a decision we have to make in the near future."