Hanging out with Mickey Mouse is getting more expensive.
Disney World hiked the price of a one-day ticket to the Magic Kingdom to $99 earlier this week. But it's hardly the first time. The same thing happened last year. And the year before that. In fact, the price of a one-day ticket has been rising pretty steadily for decades, even after adjusting for inflation.
It now costs five times what it did back in 1971—roughly $20—to spend a day at Disney's flagship amusement park. See for yourself: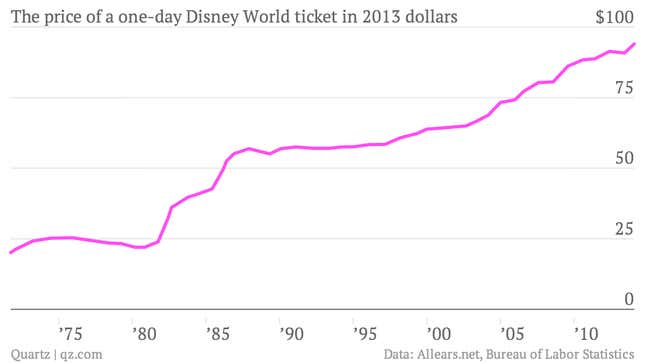 According to Disney, there's good reason for the almost annual upward price adjustments. The hikes, Disney spokeswoman Kim Punty told Newsday, reflect the high quality of the parks. Disney World is merely balancing out the money it spends on improving the rides, attractions, and technology offered to those who make it through their turnstiles. Most recently, the company spent $1.5 billion on high tech wristbands and is on the verge of launching its latest attraction, a new Seven Dwarfs themed fantasyland.
The ticket system also worked a bit differently before the 1990s. A day pass didn't necessarily grant park goers access to every ride. And today, Disney offers discounts for three-day passes (which cost closer to $91 per day) and five-day passes (which drop the price to about $61 per day).
Despite the constant price hikes, the crowds keep filing in. Disney parks raked in $14 billion last year. What's a little more in Mickey's pocket?