In case you haven't noticed, there's a war brewing between Wall Street and Silicon Valley—for talent, political influence, and most importantly, the future of the American finance industry.
One of the most prominent fronts in this war is the high-profile battle between two polarizing figures. Carl Icahn, the 78-year-old activist investor, is the personification of New York's ruthless finance culture. (He may even have been the inspiration for Gordon Gekko in Oliver Stone's film 1987 Wall Street). Marc Andreessen is the archetypal idealistic Bay Area venture capitalist, a co-founder of Netscape and general partner of Andreessen Horowitz, which was an early investor in Facebook, Instagram and Twitter.
The dispute between the two centers on the online auction site eBay, but also on the business of online payments—another front in the war. Icahn wants eBay to spin off PayPal to unlock value for shareholders. For weeks now he has been accusing eBay board members, including Andreessen, of violating their duties as a directors. Andreessen finally responded directly to the claims in a blog post this morning.
PayPal is the biggest of a bunch of technology companies (including Jack Dorsey's Square and Google Wallet) that already compete with older financial institutions to securely process online transactions. Last year, it began an expansion into actual retail stores that pitted it directly against credit card companies such as Visa and Mastercard in the $10 trillion physical payments industry.
And online payment-processing is just one of the many areas where the technology sector is seeking to disrupt the finance establishment. According to CB Insights, funding for startups in mobile payments, services for the underbanked, money transfers and transaction-processing hit a five year high in 2013, with $1.2 billion raised.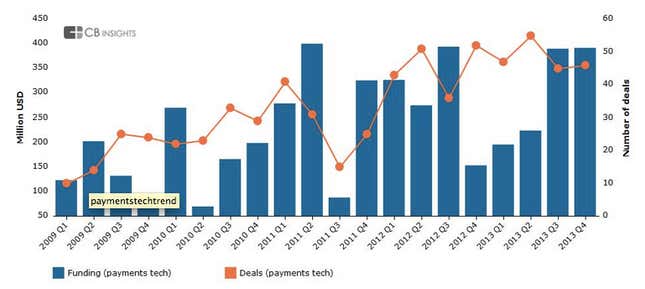 Andreessen himself has waxed lyrical on Twitter about reinventing retail banking through better software. "I am dying to fund a disruptive bank," he recently tweeted. Meanwhile, Eric Ries, another notable Silicon Valley entrepreneur, wants to establish a direct rival to Wall Street, a long-term stock exchange that would allow fast-growing tech companies to raise public funds while avoiding the pitfalls of the existing equity exchanges, like high-frequency traders and short-sellers.
It won't be easy for tech companies to truly unseat the finance establishment.  Consider Simple, an Oregon-based startup that marketed itself as the anti-bank, with no physical branches and easy-to-use software. It was acquired by Spanish banking giant BBVA last month, and is now arguably part of the system it sought to disrupt.
Yet, with money flowing into banking-related tech startups, and America's brightest minds increasingly fleeing traditional finance hubs for the West Coast, this battle is only just beginning.