This winter's messy weather will likely be a complicating factor in tomorrow's US jobs report for February. The consensus among Wall Street analysts is that the report will show that the US economy added 145,000 new jobs in February. Unemployment is expected to stand at 6.6%, according to data compiled by FactSet.
The impact of cold weather and a nasty bout of snow in the US appears to have weighed on some recent economic data. Existing home sales fell to their lowest level in 18 months in January. And consumers have shelled out more on heat, putting a chill on discretionary spending. Of course, the winter is expected to be cold. So the real question for economists is whether anything other than weather is dragging down economic growth.
Anyway, here are some of the best, most up-to-date indicators on the US labor market, ahead of tomorrow's big report.
Jobless claims are tough to read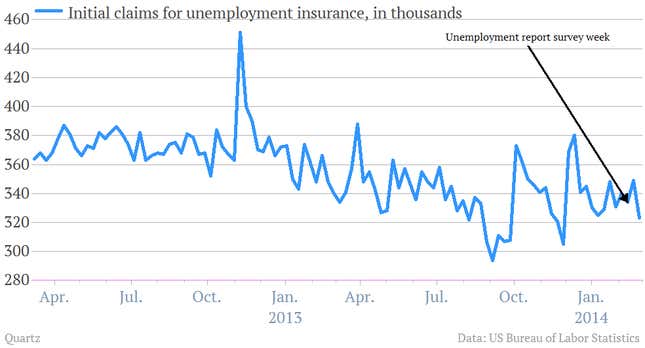 Jobless claims during the jobs report survey week were 334,000, up a bit from the 329,000 reported during the survey week in January. (Still well below the 400,000 level traditionally seen as the threshold that indicates durable jobs creation.) Of course, bad weather that week closed some government offices, meaning that claims might have been abnormally low. But other indicators, such as a four-week moving average, don't show any real sign of a worsening of labor conditions.
Consumers seem more optimistic about jobs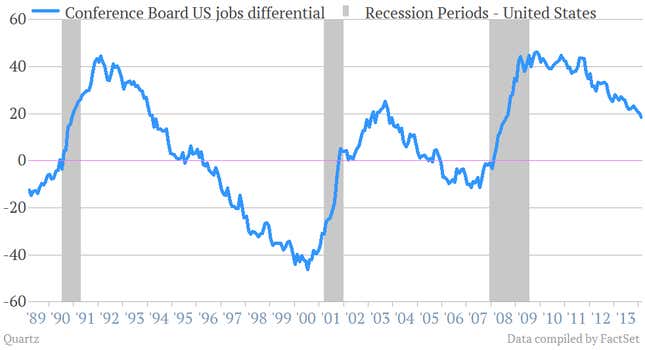 The so-called Conference Board jobs differential shows that consumers thought the job market was still improving in February. (The jobs differential is basically the difference between the number of people who said jobs were "hard to get" and those who said jobs were "plentiful" in the Conference Board's monthly survey of US consumers.)  This reading fell below 20 for the first time since the collapse of Lehman brothers in September, meaning jobs seemed less hard to get. We're still a long way from the good times of 2005 and 2006. But it's a good sign that people seem to be feeling more positive.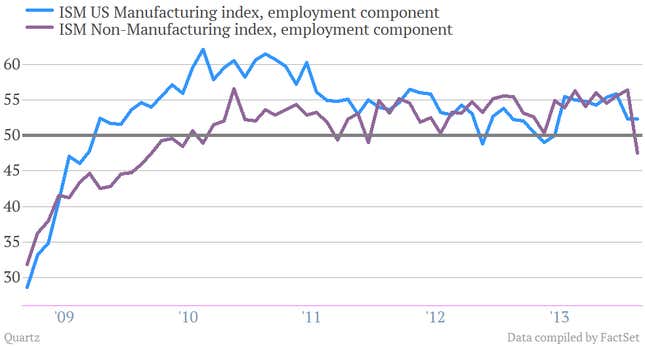 On the other hand, ISM surveys suggest employment softened
The employment components for both the Institute for Supply Management survey of manufacturers and non-manufacturers declined. And the service sector reading fell sharply, to below a reading of 50, which indicates outright contraction. That's worrisome, as the service industry employs far more Americans than manufacturing. But, again, the number might be skewed by the bad weather.
And the ADP reading on private payrolls suggests February was soft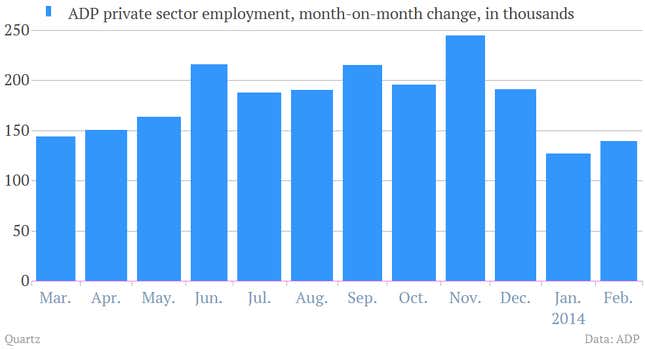 The much-maligned ADP survey of US private sector employers isn't usually a good gauge for actual numbers. But if you look at the trends, it would suggest that private-sector hiring might have downshifted slightly in February. Again, the sloppy weather likely played a role.
On the other hand, "Help wanted" online job ads picked up steam in February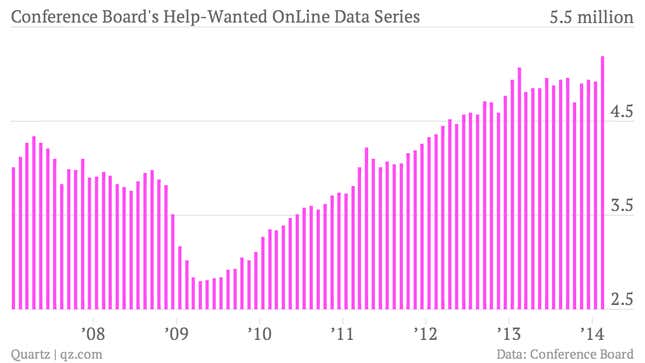 The Conference Board's gauge of online help-wanted advertisements has been picking up, broadly, since the summer, suggesting demand for labor is increasing. A surge in February "is the first signal in many months of possible renewed strength in demand for labor," a Conference Board official said.
And small businesses look increasingly eager to hire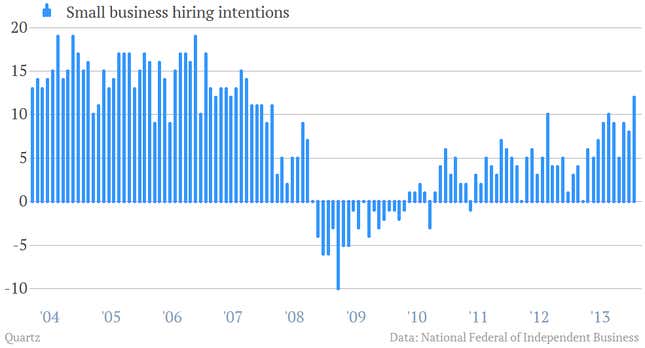 The National Federation of Independent Business found in January that hiring intentions hit their highest level since September 2007, which indicates that sentiment among entrepreneurs is improving.
So what do we make of all these numbers?
The bottom line is that tomorrow's report will likely be a snoozer, as observers may well shrug off bad news as just the impact of bad weather. And they would have reason to be skeptical of a terrible report, since there's very little in the recent run of data to suggest any sudden or dramatic deterioration in the employment picture. In other words, for a real read on the US economy, bundle up and wait for spring.