Digging a tunnel beneath the English Channel was never going to be easy. And so it proved, with the massive engineering project running behind schedule and over budget by the time it opened in 1994.
It hasn't exactly been the smoothest operation since then, but 20 years later people now think nothing of shuttling between London and Paris (and beyond) on a high-speed Eurostar train that dips briefly below the sea. In fact, Eurostar reported this week that it passed the 10-million passenger mark for the first time last year. This is an impressive achievement, but there's a catch: it came 15 years too late.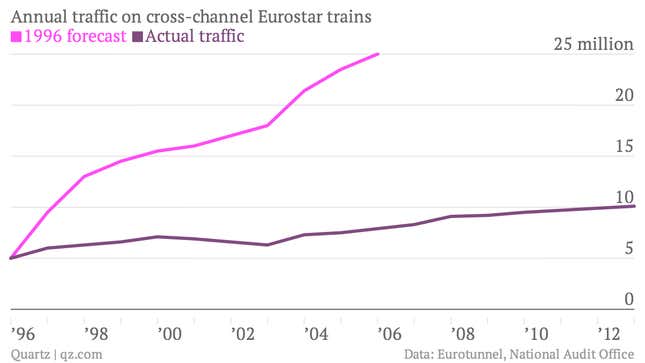 When UK officials awarded a contract to upgrade their side of the Anglo-French rail line in 1996, the winning bidder submitted a 10-year passenger forecast to support the cost of the construction work. According to its assessment, Eurostar would carry 10 million passengers in 1998 and 25 million by 2006. It's no wonder that, once the actual traffic patterns became clear, the companies involved faced financial restructuring, brushes with bankruptcy, and outright nationalization.
Today the tunnel does a roaring trade, relatively speaking, as the UK's surprisingly strong economy has encouraged more business travellers to hop across the channel of late. The train's current bosses can't be blamed for failing to meet the expectations of their starry-eyed predecessors, but the numbers are telling, since so many big infrastructure projects follow a similar pattern.
Back in the late 1990s, British planners were also touting the prospects for another ambitious building project. The Millennium Dome proved a disaster in its original form—but with time, and new management, it became one of the world's busiest music venues. The precarious backstory of the venue, like the one behind the Channel Tunnel, is likely lost on the millions that now benefit from its services.