This year's Cannes Film Festival in May was supposed to have seen the return of Netflix to the Croissette—the glittering stretch along the French Riviera where the prestigious celebration has been held for 73 years.
If the coronavirus pandemic hadn't forced the world into an unwanted intermission, the festival would have seen the debut of Spike Lee's Da 5 Bloods, the director's first feature film for the streaming giant. Starring Chadwick Boseman, the film tracks a group of African-American veterans of the Vietnam War, who travel back to the country to confront their past.
The film will now premiere online in June. But a screening at Cannes would have marked an overture of sorts in the simmering conflict between Netflix and the French cinema institution.
The last time stars of a Netflix production walked the red carpet in Cannes was in 2017, when the casts of Okja, starring Tilda Swinton and Jake Gyllenhaal, and The Meyerowitz Stories, starring Adam Sandler and Ben Stiller, celebrated the streaming network's debut at the festival.
Their inclusion caused an uproar from French exhibitors. Traditionally, studios attending Cannes followed the trajectory of releasing a film in theaters, then on Blu-ray or DVD, and then to a broadcast TV or cable company. This adheres to French law, which stipulates a three-year window between theatrical release of a film and its streaming date. Netflix's business model—releasing films and shows to its platform promptly, or even directly—was considered a violation.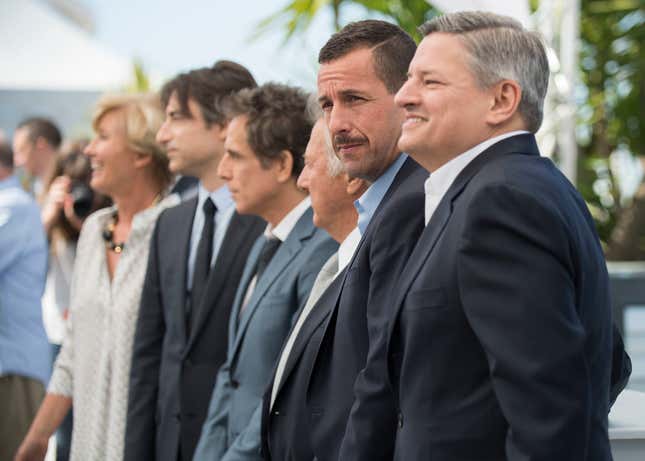 Before the curtain had even closed on the 2017 festival, Cannes announced it would only accept films that adhered to the three-year window rule, effectively banning Netflix and other streaming networks from taking part in its competition and being eligible for the festival's main prize, the Palme d'Or. Netflix responded by withdrawing from the festival program altogether, taking its A-list star power and big-budget premieres with it.
Despite this abrupt departure, the streaming giant has worked overtime to woo the French film industry and promote local productions—not even letting the coronavirus pandemic get in its way.
"Our horizon in France is long-term," says Damien Couvreur, head of original series at Netflix France. "Not what has been happening across the last few months."
The relationship between the streaming platform and the world's most glamorous film festival is about more than awards. It's indicative of a tension between theatrical and online release which Netflix has had to contend with globally, and a larger fight it has had to stage to win over local entertainment sectors in its bid for global expansion. To gain standing in Europe—and secure audiences along the way—it's become evident that winning over the industry in France will be key.

Nouveau Netflix
Netflix first entered France in 2014, much to the chagrin of established film and TV players. They feared the streaming platform would squeeze out independent producers and disrupt the theatrical model around which the entire French film industry is built. The strict release window helps maximize the tax that the government levies on each movie ticket, which it uses to fund French films. It's also helped to preserve and protect the much-revered pastime of communal movie-going in the country. France is the biggest theatrical market in Europe in terms of admissions, with more than 6,000 theater screens.
A number of European countries require national broadcasters and online video companies to invest directly into the production of local film and TV series, through a levy on their total revenue. When Netflix opened and closed a small office in Paris in 2016, many saw this as an unwillingness to fall in line with local regulations.
Then came the Cannes dispute. Netflix has been absent from the festival—a major event on the cultural calendar—for the past two years. The platform's black-and-white hit, Roma, was one of five Netflix productions originally accepted by the festival, and it could have started its awards journey at Cannes in 2018, before picking up three Oscar statues last year. But Netflix wouldn't agree to the festival's stipulation of a theatrical release in France, which would have meant following the traditional 36-month release window. The Alfonso Cuarón-directed epic was disqualified, prompting Netflix to pull its entire slate from the fest.
The company has done much to try to improve its position in France since. In January, it opened a much bigger office in Paris, with a local team of 40 (following other European locations including headquarters in Amsterdam, and offices in London, Berlin, and Madrid). It announced 20 new productions, and a partnership with French creative institutions to support training programs for people from disadvantaged backgrounds. Since 2016, it has contributed a 2% tax on its annual revenues in France, per its National Film Board requirements (the French parliament is in talks to increase this tax). And it's won over local audiences with home-grown shows like the horror series Marianne, the supernatural fiction, Mortel (Deadly) and the comedy Family Business.
Netflix France's Couvreur told Quartz that the coronavirus pandemic hasn't impacted the streaming services' undertaking in France. "The situation is clearly different from when we opened our office in January," he says. "But our ambition and our commitment to France remains much the same. Of the 20 projects we announced for 2020, all of them are going forward. Whether they were in development, in production or in post, through this crisis the goal has been that no production will be cancelled."
Indeed, the network was able to release four of the 20 productions during the first two months of the pandemic, including Damien Chazelle's anticipated French-American music drama series The Eddy. Shooting on Arsène Lupin, starring Omar Sy in a TV-series adaptation about the fictional gentleman thief, is slated to begin again in September.
The company has also contributed to a €1 million ($1.01 million) emergency relief fund to help local freelance artists and crew members affected by the coronavirus shutdown. "Of all the realizations we've had over the last two months, there's been a lot of reinforcement around how production is a giant human chain," says Couvreur. "Where everyone, from your lead cast member to the color-grader to the sound mixer—you need everyone to make a great show, so we're really focusing on helping those technicians and those crew-members to make it through the crisis."

Ticket to Europe
Netflix is eager to secure audiences outside of the US. Gaining acceptance in France, a gateway to Europe, is central to this goal.
Ampere Analysis, a London-based media research firm, projects Netflix will have well over 200 million subscribers globally by the end of the year, in part, thanks to growth in western European countries like France. That growth has been critical for the company, which has pursued a greater international strategy to help build its subscriber base beyond the US, in the face of competition from other streaming services, including former suppliers who have now become rivals.
Last month, the company recorded its strongest quarter, adding nearly 16 million subscribers. Growth in France, which has 6.7 million subscribers according to CEO Reed Hastings, contributed to this goal.
Léa Cunat, a senior analyst at Ampere, says Netflix has built an advantage over platforms that have yet to significantly invest outside of the US. "We're seeing a growing appetite for local content across the globe, with original shows becoming incontestable tools for digital platforms to drive subscriptions," Cunat says. "Netflix is now the leading SVoD [subscription video-on-demand] platform in France, and it has also been helped by limited competition."
But, as Netflix' very public clash with Cannes has shown, it has to play within an existing ecology of domestic rules and regulations. This is particularly true in France, a country with a rich cultural tradition it wants to protect. Although Netflix has created local content in other countries too, as Cunat points out, French content doesn't necessarily have the same widespread appeal compared to English or Spanish-language content. So while this may not help the overall global strategy in terms of sharing content across borders, it does show a willingness to be actively involved in and support the film and TV landscape within a country.
Although Da 5 Bloods would have premiered at Cannes, as festival director Thierry Frémaux told Screen Daily, "out of competition, of course," the fact the film would have been a part of this year's festival line-up at all shows how Netflix's standing in France has changed. Da 5 Bloods director, Lee, was meant to be the first black president of the competition jury this year, which may have been part of why the film would have debuted there. But beyond that, it could also have signaled a step forward for relations between Netflix and Cannes, in spite of neither entity budging on its stance around the theatrical window-release.
Ironically,  the pandemic could end up providing a solution, by shutting down French movie theaters. In March, as an exceptional measure, French regulators allowed the direct-to-consumer release of a limited number of movies on streaming platforms for the duration of the lockdown. The National Film Board's Dominique Boutonnat, in a statement, emphasized this would be a temporary measure that should "in no way call into question the fundamental policy of media release."
However analysts like Cunat and others believe the decision might prompt the rules to evolve. "This might pave the way to a reshuffle of windows in the future," says Cunat. "If more studios release titles at premium prices on digital platforms, but not in cinemas, that would potentially allow Netflix to get access to titles sooner than under the current circumstances."
With local TV groups now co-producing shows with Netflix and local sales agents signing deals with the streaming service, such as French production company Mk2's pact last month to allow it to show 50 classic films from its library, Netflix is starting to be seen as a more amiable partner.
This can only boost its standing in Europe, says Cunat. France is "a key driver and shaper of wider EU policy, especially now, with the departure of the UK. If Netflix is able to ensure that it is favorably perceived by French politicians, it is more likely to have a bearing on EU-wide policy."
That could impact the extent to which the streaming service has to follow long-entrenched regulations going forward, and perhaps cement its standing in the bloc before other streaming services gain ground.