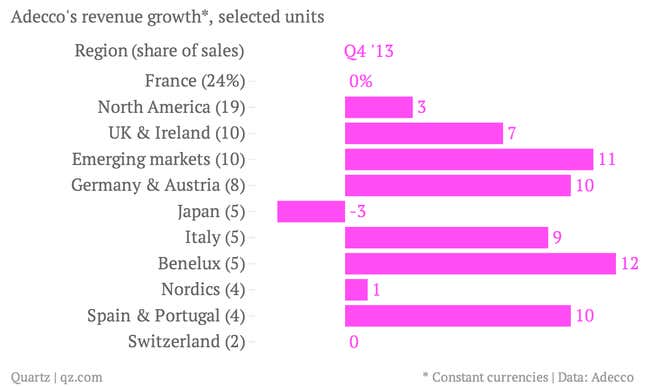 The numbers: Adecco, the world's largest staffing agency, reported a strong set of results in the fourth quarter. The Swiss firm saw quarterly revenues, excluding currency effects, rise by 4% versus the previous year, after nearly two years of declines. Quarterly profit quintupled, to €174 million ($241 million). Shares are now trading at six-year highs.
The takeaway: More than 60% of Adecco's revenues come from Western Europe, making it an important bellwether for the health of the continent's labor markets, especially as temporary employment is considered a leading economic indicator (pdf). Encouragingly, in the fourth quarter Adecco recorded double-digit sales gains in a broad range of countries, from Germany to the Netherlands and Spain (see chart above). Revenues have been rising a bit faster so far this year, Adecco said, with similar geographic patterns to the fourth quarter.
What's interesting: Adecco says sales have remained flat in France so far this year—more evidence that in the hiring of temps, as with several other economic indicators, France is falling behind the rest of Europe. A quarter of Adecco's sales come from France, and restructuring the company's troublesome French unit has weighed on Adecco's results for many quarters (paywall). Granted, French sales are no longer falling, but they aren't rising either. The country that straddles Europe's German-led "core" and its Mediterranean "periphery" is steadily losing ground to both.