The euro zone's factories are humming, for the most part. A batch of data out today confirmed a steady recovery in industrial production in some of the monetary union's largest countries. France, Italy, and Spain (pdf) all released January production data today, following an update from Germany's mighty manufacturing machine last week.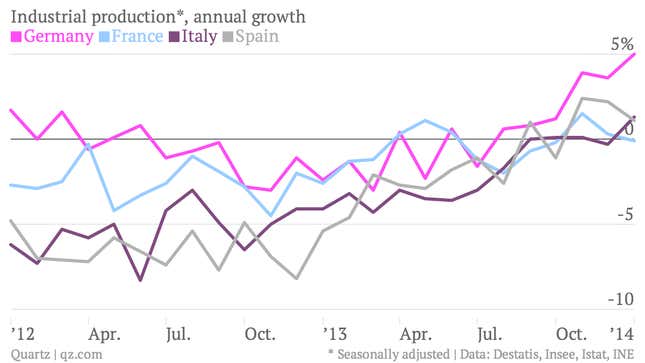 As the chart above shows, the data can be volatile, but the overall trend is reasonably clear. German factories are revving up faster than their counterparts in other big euro zone countries, while production in Italy and Spain is steadily accelerating following months of deep decline.
France falls somewhere in the middle—factory output was not hit as hard as in the crisis countries, but neither has it kept up with stronger countries such as Germany, a source of angst in Paris. French officials have recently taken to attacking private economic surveys, claiming that they shortchange the strength of France's recovery (inasmuch as an economy that eked out 0.3% growth last year and might achieve a tepid 1% this year (pdf) can be considered strong). What seems clear, however, is that the state-directed manufacturing revival plan unveiled with great fanfare last year has yet to produce results, amid signs that the sleeping giant of industrial unrest still lurks just below the surface of labor relations.
But some perspective is in order. Although industrial production growth in France fell behind Italy and Spain last month, French factories are not digging themselves out of as deep a hole as manufacturers in these countries.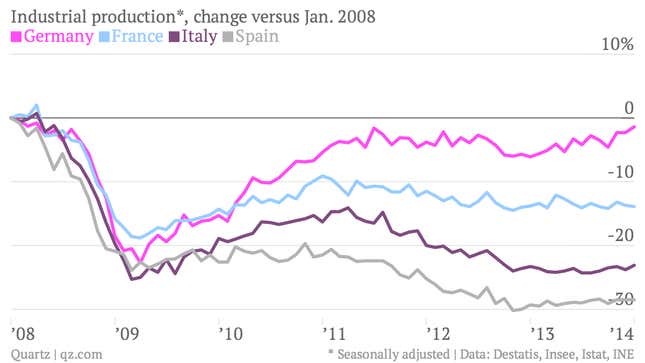 More worrying, perhaps, is the ground that France is losing to Germany—industrial production in both countries followed a nearly identical trend during the worst of the financial crisis, but in recent years German factories have left their French counterparts in the dust. German production is almost back to pre-crisis levels of activity, while French output languishes nearly 15% below where it was at the start of 2008, and where it's been stuck for much of the past year. As most of the euro zone's factories sputter back to life, it's starting to look like the engines in France have stalled.