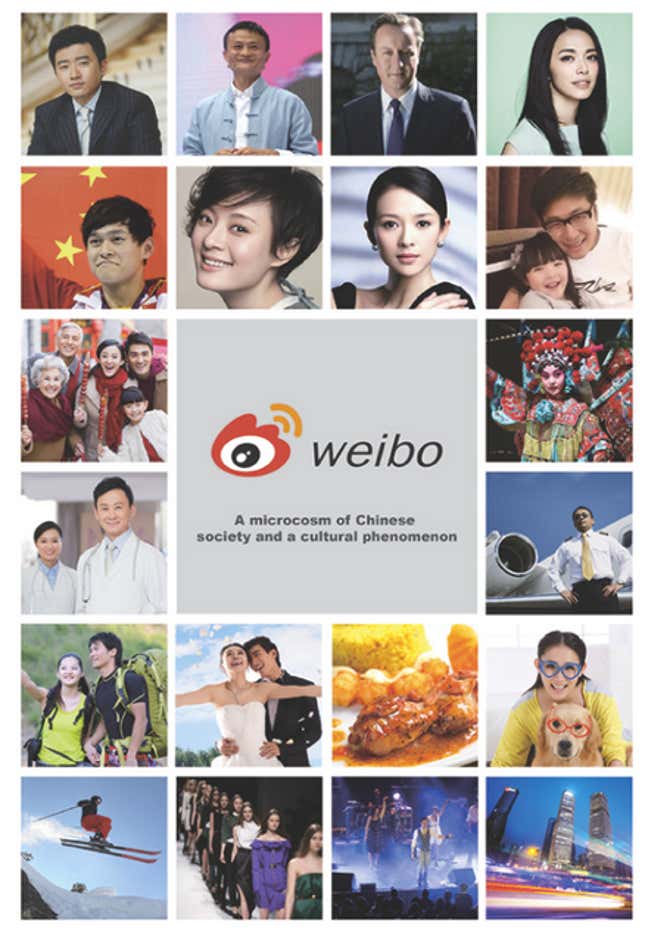 Sina Weibo, the Chinese microblogging service often compared to Twitter, just filed papers for an IPO.
Rumors circulated last month that the company would soon file to go public, buoyed by the enormous valuation WhatsApp recently secured when it was bought by Facebook for $19 billion. Analysts estimated a $3-6 billion valuation for Weibo, though some reports put the expected offering even higher (paywall) at $7-8 billion.
Weibo is considered China's virtual water cooler  where citizens spread viral news stories and trade witty barbs about the country's biggest institutions. The service has increased it monthly active users by a third last year to hit 129.1 million by December 2013. By comparison, Twitter reported 215 million monthly active users when it filed to go public last year. Weibo says that it wants to jumpstart its user base by focusing on improving its mobile functionality and training its growth on the China, which boasts a population of 1.3 billion as of 2012—quadruple the size of the US population.
So far Weibo isn't profitable but its IPO papers showed that its losses are shrinking.  Net revenues narrowed from $38 million last year, compared to a $117 million in 2011, for example.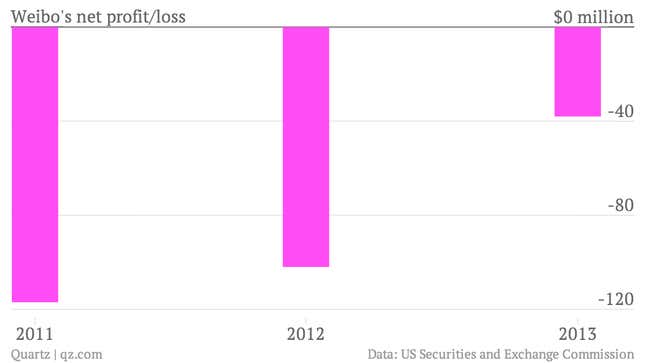 However, it also shed a huge number of users earlier this year amid concerns about censorship. The company which kicked off just more around four years ago, said its microblogging services generated about 78.8% of its revenues from marketing and advertising 12% from "game-related" services and nearly 6% of revenues from its premium membership service.
Censorship is cited as a risk factor in the filing (p36).  "The PRC government has adopted regulations governing internet access and the distribution of information over the internet….Failure to comply with these requirements may result in the revocation of licenses to provide internet content and other licenses and the closure of the concerned websites. The website operator may also be held liable for such censored information displayed on or linked to the website."
Alibaba, China's e-commerce behemoth, which is expected to launch its own IPO in coming months,  owns 18% of the company, with an option to raise it to 30%.