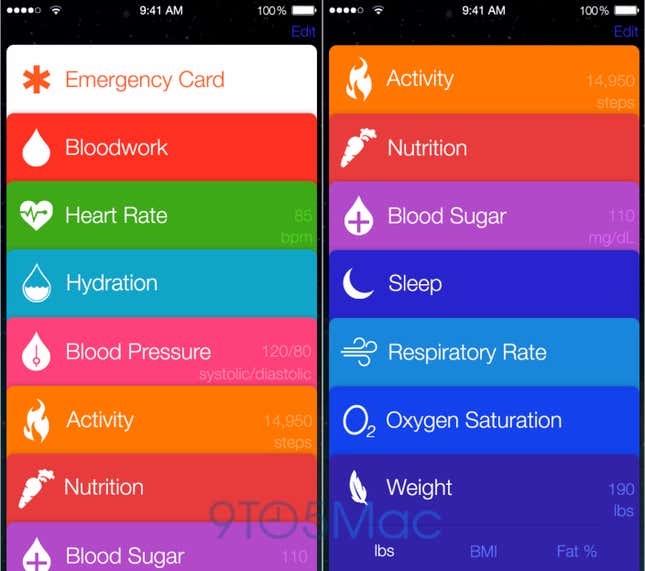 We may have a better idea of what Apple's rumored iWatch will be capable of, thanks to iOS8 screenshots made public by Mark Gurman at 9to5Mac. They show Healthbook, an iOS8 native app that will aggregate health and wellness information.

Many of the data points listed are tracked by current wearables, so it's possible that Apple just wants to create an iOS-friendly home for all of its users' data. This wouldn't be the smartest move—FitBit and Jawbone have very user-friendly applications already—but Apple might be able to get users to abandon one app for another. And there are some wearable fitness trackers that lack a gamified app interface, so this could be a way for users to pair the most sophisticated wearable with a visually pleasing app.
But Healthbook is also set up to keep track of data that doesn't really exist in the wearable kingdom: hydration levels, respiratory rate, and blood sugar. This could indicate that the app is meant to support Apple's first wearable computer—a device that will measure all of these. Apple's stream of hires and patents certainly suggests that it is working on a suite of brand-new health- and wellness-tracking hardware. And remember: Apple CEO Tim Cook is a health and fitness nut. It's unlikely that Apple would neglect the fitness tracker market on his watch, and equally improbable that the resulting product would be anything but (an attempt at) the best.
There are other explanations for Healthbook's lofty aspirations. Perhaps the "hydration level" tracking is just a system for inputting your daily water intake, similar to Jawbone's new app for tracking caffeine levels. And since diabetics track their blood sugar anyway, Apple could just be giving them a place to keep track of their data, without integrating a sensor to do it passively. But if this is a glimpse at Apple's vision of a be-all-end-all smart wearable, it could be one worth waiting for.