So it looks like Crimea is going to be Russian again. And the markets don't really seem to care.
Around the world, stocks are seeing a lift this Monday. In the US, the Dow industrials are up roughly 1%, about the same as the major European indexes. In Russia, the Micex snapped a nasty six-day losing streak by rising nearly 4%.
In fact, global investors bid up the price of stocks soon after President Barack Obama's administration announced a series of sanctions—including asset freezes and travel bans—on a number of individual Russian and Crimean leaders.
After the announcement, at a little after 10am EST, S&P 500 futures rose…
As did major European indexes such as the Stoxx 50 …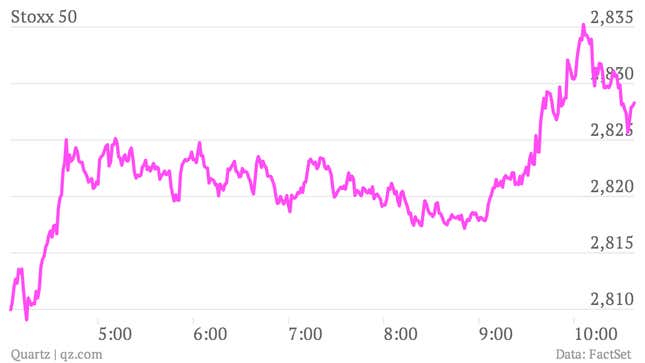 While the ruble strengthened against the dollar …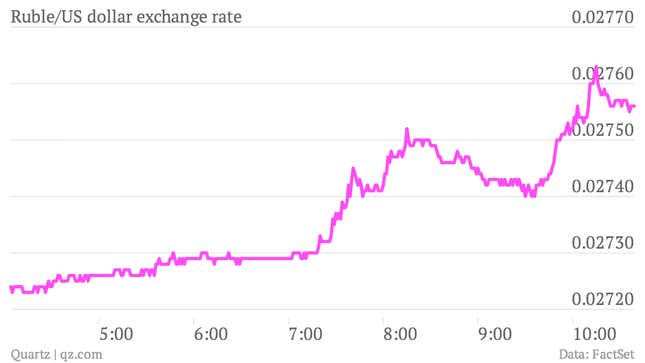 To many observers the imposition of sanctions might sound like a worsening of the diplomatic situation. And it is. But markets seem to like the fact that the sanctions spotlighted individuals and largely left companies and payment systems alone. If the Obama administration was really looking to play rough, it could have taken a lot of tougher approaches. (Just look at Iran, for example.)
In other words, the Russian takeover of Crimea is largely a done deal, and that will have very few implications for the global economy, as long as the West doesn't make a big thing of it. And by the look of the sanctions announced today, the West won't.