Like thousands of US colleges and universities this spring, Simmons University in Boston had to adjust to Covid-19 on the fly, closing lecture halls and moving classes online. And like many of its peer institutions, Simmons is preparing for a remote fall.
Simmons, however, is going further. Not only will all classes go online this fall, but it's launching a new undergraduate online program that extends into the future. Offered through 2U, a education tech company, the online undergraduate program will serve not just current Simmons students but "new types of students as well, those who would not otherwise be able to participate in the distinctive, excellent education that Simmons provides," Simmons then-president Helen Drinan said in a May 8 letter to students and alumni.
A private, all-women's institution founded in 1899, Simmons is atypical of the institutions offering online education for undergraduates—it's not a big state school like Arizona State nor a for-profit like the University of Phoenix—but it is a harbinger of changes to come.
Covid-19 has forced universities across America to reckon with online higher education, many for the first time. Students and parents—who previously may have associated online education only with dodgy degree mills—have been immersed in new systems of teaching and learning and once-skeptical faculty and administrators have been given a crash course in distance education.
History may look back at this year as the turning point when online education began its transition from a niche product to an essential element of the college experience, as much a part of higher education as lectures and laboratories. In some cases, universities—seizing an opportunity to cut expenses in facilities and instruction—will embrace a hybrid model, where students attend classes both online and in person. In other cases, like at Simmons, new, revenue-generating programs will expand the university to students who never step on campus. And in some instances, completely new forms of education will develop and gain traction.
In a sector that dates to the 1600s, change moves slowly, but the investments by universities in technology and training—and the growing acceptance of online learning among students, parents, and faculty—will permanently reshape higher education in America. As international universities look to the US as a model, the impact will eventually be felt globally.
"People are thinking of Covid like it's an earthquake and an earthquake is the right analogy, but it's happening in the middle of the Pacific Ocean," said Ben Nelson, an entrepreneur and founder of Minerva, a selective online college. "It's enormous but no one feels it until it builds into a tsunami."

Table of contents
Building the online university | A short history of online education | What is college for? | The rush to go remote | The business opportunity of online education | The liberal arts, online | Investing in the future

Building the online university
Across the country from Simmons, technicians at Arizona State worked the last few months installing thousands of cameras and other technology in 800 classrooms and learning spaces for remote teaching. It's not intended to be a temporary measure, said president Michael Crow. "We didn't spend $10 million this summer to equip all these classrooms for a semester or two of Covid," he said.
For more than a decade, Crow has been an evangelist of online education, and this spring Arizona State conferred 42,642 degrees to students who were entirely online, up from 1,582 in 2011. Students at the university can take classes in person or remotely, a hybrid model that helps them progress through their degrees faster and enables more double majors.
Crow envisions Arizona State as the vanguard of an online revolution, with vastly expanded access, and college degrees available to all who want to work for them.
"There's a need to get millions more deeply educated," Crow said. "We're doing everything we can to take our on-campus experience to make it unbelievable, but in addition to that, we can see all the people who couldn't come and who wanted to come."

For students, the rise of online education means some are rethinking traditional colleges—particularly given that many schools are charging the same tuition for a remote experience—and enrolling in universities that specialize in online education. And some of those online schools see an opportunity to capture formerly campus-bound students with degree programs that are faster and cheaper.
Western Governors University, a private, online university created by a group of governors of Western states in 1997, specializes in degrees for working adults. But there is growing demand for its programs from the traditional college-aged students who see the appeal of earning a degree while working, said Marni Baker Stein, WGU's provost.
WGU's enrollment of students between ages 18 and 24 increased more than 10-fold, from less than 1% to 12%, between 2016 and 2020, Stein said.
"There's a growing number of kids in that age group who really love that earn-and-learn model and don't want to take on that enormous amount of debt and want that experience," she said. "Covid just puts the exclamation point on it."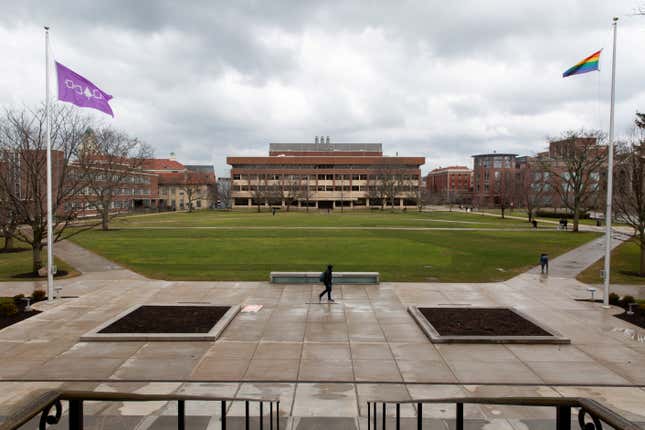 For its advocates, online education means the expansion of opportunities to students for whom a college degree was previously impossible: working adults, single parents, the disabled, full-time caregivers, and students who couldn't afford the rapidly escalating tuition.
But for its critics, remote learning means losing the essence of the college education.The organic process of learning from peers is replaced by a regimented experience and the campus atmosphere designed to foster critical thinking can't be replaced by group chats on Zoom. At its worst, online education is simply about conferring degrees as quickly as possible, a credentialing service that doesn't leave room for actual learning.
The debate about online higher education is really about the role of the college experience. Is college about economic advancement and social mobility, and preparing millions of high school graduates for well-paying careers? Or is it about building character and citizens, and training minds to think critically and with skepticism about the world?
For the second half of the 20th century, the aim was to do both in the US, and the growth of public universities meant a first-class education with low tuition was widely available. But cutbacks in state subsidies means the average tuition at four-year state universities has tripled since 1990 (from $3,510 to $10,440), sending student debt skyrocketing, and the number of recent high school graduates in four-year colleges has plateaued at about 44% after steadily rising from 1970 to 1990. The growth of online education could expand access again, but permanently change our understanding of college.

A short history of online education
Remote learning in the form of mail-in college correspondence courses dates back to the 19th century (and are still used by prison inmates), but the first institution to offer degrees online was Jones International University, a for-profit school founded by cable TV entrepreneur Glenn Jones. Jones, who started Mind Extension University as a cable channel, saw the potential of going online in 1993, and his school was accredited (pdf) six years later, although not without objections from university professors. It closed in 2016.
Other for-profit schools soon followed, and trade schools such as ITT Tech and DeVry expanded from offering traditional vocational degrees in auto and electronics repair to awarding bachelors and masters degrees. Using aggressive—and at times deceptive and fraudulent—marketing techniques and liberal use of federal student loans, the for-profit online sector boomed. By 2010, more than 2 million students—many of them adult learners and members of the military—were enrolled in for-profit institutions, a tenth of all college students.
It didn't take long for the industry to collapse, however, as investigations (pdf) and lawsuits exposed the for-profit institutions' low graduation rates, high levels of student indebtedness, and poor record of career placement. Last year, the University of Phoenix, which at its peak boasted an enrollment of 470,000, settled with the Federal Trade Commission for $191 million over claims it deceived students with misleading advertising. Most of the money will go to cancel student debt.
Traditional universities could have filled the gap, but they were busy pursuing another online venture: massive open online courses, or MOOCs, an idealistic effort to make college education free and universal. Hundreds of courses from the nation's top universities were launched and millions enrolled on platforms like edX and Coursera, but few students ever completed them, and with no promise of a degree, there was no obvious path to monetization. (Eventually, those same universities found more success offering online graduate degrees).
The void in online undergraduate education left by the collapsing for-profit universities was instead filled by an eclectic group of private, non-profit schools who invested in their online capabilities and, just as critically, their marketing. Western Governors, Southern New Hampshire, and Liberty aren't at the top of US News' list of best colleges, but they have captured a large chunk of the adult students looking for a reputable alternative to the disgraced for-profits. Each now has a total enrollment of more than 100,000.
Those universities, as well as a handful of public universities such as Central Florida and Arizona State, have honed a formula that leverages the internet's ability to offer services at scale.
They target adult students who are focused on completing a degree and aren't in college for parties or intramurals. They accept credits from other institutions, and let students count their real-world experience, meaning students earn their degrees faster. They offer a limited range of majors and degrees, helping keep costs down. And perhaps most importantly, many offer competency-based learning, where students progress at their own pace, studying until they pass an assessment that allows them to advance. Their progress is monitored by program mentors, who serve as advisors and coaches.

What is college for?
The advantages of the competency model are obvious. Competency-based programs mean students learn asynchronously, and don't have to be online at a specific time. They can adjust or pause their course load depending on circumstances. And because they are easily scaled, costs can be controlled, so tuition can be as low as $320 per credit hour at Southern New Hampshire, or $9,600 a year, less than a third of the average cost of a private university.
An online degree from institutions like Southern New Hampshire or Western Governors comes with tradeoffs their students accept, said Stein, WGU's provost. "They are not getting a football team and a leafy campus with a Starbucks," she said. "They are getting value-packed experience that's aligned with their goals."
But to the critics of competency models—and of online education more broadly—the students are missing more than just frat parties and tailgates. They're missing out on a real college education.
Competency-based learning "takes the assessments, which should be a small part of the college education, and makes it the main part," said Johann Neem, a history professor at Western Washington University and author of What's the Point of College? Seeking Purpose in an Age of Reform.
"They're not actually democratizing the college experience, they are democratizing degrees, but degrees are not the main part of college," Neem said. "The purpose of college is to produce knowledge, it's not to streamline it, like a factory."
Neem argues the physical component of higher education is essential, that professors and students need to meet at least weekly—in a space dedicated to the purpose of learning—to share ideas. He compares the experience to attending church: It's possible to pray at home but the faithful still join together in a building designed to elevate the experience. There's a reason, he said, Apple and Google build campuses for their workers.
To Stein, the romantic vision of college doesn't fit the reality of today's learners. "That is only what college is for a precious few, and for a decreasing number of students," she said. "That's a very expensive coming-of-age experience that isn't very effective."

The rush to go remote
The coronavirus pandemic means the debate over the merits of online education is no longer about dueling pedagogies, but a pressing question for millions of students and parents. For many, the spring was their first exposure to remote learning and it was a disappointment.
According to a survey of more than 3,000 students by education tech company Top Hat, nearly 70% said their online instruction in the spring was inferior to their classroom instruction and half said they spent less time on course work. That's not surprising, given how quickly it came together, said Jeff Selingo, the former editor of the Chronicle of Higher Education and author of College (Un)bound: The Future of Higher Education and What it Means for Students.
"What happened this spring was remote education, not online learning," Selingo said. "Some elite institutions have designed very good online courses but that's expensive and takes time and ripping up the course. Most people duct-taped together Blackboard and Zoom and called that online education."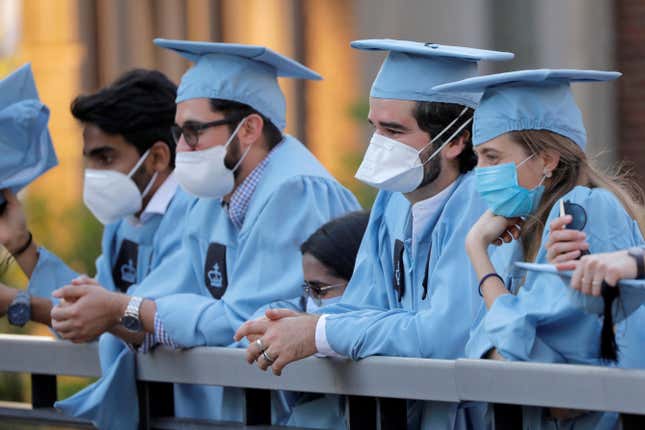 For some students, the experience was so unsatisfactory, it means pulling out of school altogether. After Sarai Flores' freshman year at Penn State was disrupted by Covid-19, she withdrew from the university and will spend the next academic year taking courses from Coastline College near her home in southern California. From her perspective, there was no real advantage to taking Penn State's online classes; she had expected to spend her years on campus developing friendships and making connections with faculty. Without those opportunities, the investment no longer made sense.
"I don't feel comfortable spending 50-60 grand for an online class," Flores, 19, said. "It was a waste of my money and a waste of my time. I felt most comfortable saving all that money and coming home with my family."
Further, she's anxious about the health implications of returning to campus.
"They're having students going back to campus but not having in-person classes," she said. "There's like 40,000 students, all in dorms, and I don't necessarily trust college students to stay in their dorm rooms all the time. That doesn't seem fun and that doesn't seem safe."
Flores is in the minority, according to other surveys, which indicate few students plan on transferring or dropping out. That's in part because many universities waited until relatively late to tell students about their fall plans. But a larger number—and particularly minority and low-income students—said their lives will be more difficult this fall: They'll have to take fewer classes, work more, and take care of ailing family members.
A range of online institutions are seeing an uptick in enrollments this fall. In some cases, it's because the economic ravages of the pandemic mean unemployed adults are returning to college, said Erika Orris, the chief enrollment and marketing officer at University of Maryland Global Campus, an online university within the state university system that has about 90,000 students. Orris says there's not much evidence younger students are transferring to the school.
At Southern New Hampshire, enrollments for the term that started in June are up 30% and online inquiries are up 45%, year-over-year. Like at Western Governors, the average age of students is dropping and the university is consciously targeting traditional college age students in its advertising, said Lauren Keane, a university spokesperson, in an email.
"We have incorporated more web and video into our marketing strategy to attract traditional-aged college students who may be uncertain about enrolling on campus in the fall or who are looking for a high quality, affordable online program," she said.

The business opportunity of online education
This turmoil isn't just an opportunity for the providers of online education, but for the technology companies that produce their courses. Among them is 2U, a Maryland-based, publicly traded company poised to ride the wave.
Until recently, 2U had produced only graduate programs for universities, including a nursing degree from Simmons. 2U typically manages the technology, marketing, and enrollment for the program and in return takes 60% of the tuition revenue. The business model of 2U and other online program management (OPM) companies like Pearson Learning and Wiley Education Services has drawn the attention of Senator Elizabeth Warren and other members of Congress, who see parallels with the illegal incentive-based recruitment model once employed by for-profit colleges.
The pandemic has changed the landscape for companies like 2U, and schools of all sizes and types are now interested in its services, said Chip Paucek, its CEO. As importantly, Paucek said, students are open to online programs, with a 2U survey in July of 1,754 students indicating 73% would consider an online program.
"This is an absolute paradigm shift. We started seeing it in students and universities, and now we're seeing it with faculty," Paucek said. "This is like the point of no return."
The opportunity for 2U and its OPM competitors is huge if undergraduates move online in big numbers. Graduate education in the US generates $80 billion in tuition annually. Undergraduate education is worth $550 billion.
Among the institutions working with 2U is Amherst College, a highly selective private school in rural Massachusetts that prizes the on-campus experience. 2U is helping Amherst put its 35 largest classes online so the lecture halls can be used for smaller classes that are socially distant, said Catherine Epstein, dean of the faculty. With a very small technology staff, the college needed help. Unlike 2U's other engagements, Epstein said, Amherst is paying 2U a fee, not a share of tuition revenue.
Paucek argues that online education, done right, can be as enriching and stimulating as a traditional course. The trick, he said, is to design courses from the bottom up in a way that takes advantage of the capabilities of technology.
Even the difficulty of creating social experiences that builds connections and networks—one of the chief criticisms of the online environment—can be overcome, Paucek said, through online activities and events. The happy hours 2U organizes for its graduate students are well attended, despite being remote, he said. After all "when you're with someone at a bar, you're not drinking their drink," he said.
Ultimately, he said, what makes a program successful remains the quality of the instruction.
"This is Amherst's program, not ours," Paucek said. "It's their accreditation, it's their faculty, it's their curriculum."
Epstein said Amherst intends to return to a fully on-campus experience as soon it's safe to do so, but its faculty will have new educational tools and techniques at its disposal. While it may not happen at Amherst, the widespread adoption of online education depends on faculty acceptance, Paucek said.
"Once you get down this path and you have faculty who were some of the opponents start to do it, you take away some of the angst and bogeyman-notion of it," he said.
Within a few years,  Paucek said, many more schools will offer many more classes online, and more universities will resemble Arizona State, with its mix of in-person and online classes.
"I don't think all these campuses are going away," he said. "(But) it will be significantly less obvious what is online or offline. Everything is going to be online. Even if you're on campus you're going to be online."
Colleges have an incentive to move online, too, particularly less prestigious colleges heavily dependent on tuition revenue. For a struggling institution, online education is a tempting lifeline, said Trace Urdan, a managing director at Tyton Partners, an investment bank that works with education companies.
"The economic pressures on colleges are going to force some experimentation in that realm," he said. "In the longer term, it is about diversification of revenue. [Colleges are saying] 'We can't have all our eggs in this ground-based basket."
That's particularly true if international students—who make up 5.5% of all students at US universities and often pay the full tuition price—no longer enroll, either because of Covid-19, difficulty securing a visa, or a sense that the US is no longer a welcoming destination.
Urdan pointed to the model of Grand Canyon University, a university in Phoenix where more than 80,000 online students help subsidize the low tuition for a campus population of 22,000. Most schools have been reluctant, however, to do what it makes to build an online brand.
"There could be some institutions, not the super elite ones, that could really benefit having a model that really mimics Grand Canyon," Urdan said. "It isn't that there isn't demand for it, but you have to be prepared to do it in the way the market demands it. You can't do it just by putting the class up and expecting people to come—you have to actually sell them and you can't be squeamish about it."
In some cases, the solution for universities looking for a path online has been to buy struggling for-profit colleges. The strategy gives schools like the University of Arizona and Purdue University a new revenue stream without the trouble of building their own programs, but has invited significant criticism from their faculty.
Skeptics wonder where the demand will come from, however. There is an obvious market in the huge number of adults who haven't finished college—one study (pdf) says 36 million Americans have some college experience but no degrees—but tapping the traditional college-aged student may be harder.
Graduating high school seniors are fairly conservative about their college choices, said Colin Koproske, the managing director for research for EAB, an education research and advisory company.
Along with an education, college students are purchasing  "an acceptance letter, a network, a set of assumptions that people make about you, and an experience," Koproske said. That's hard to replicate online, particularly at institutions without an established reputation.
International students are an even tougher draw, he said, because they want to live in the US, and have an opportunity to spend a year working in the US that came with a student visa.
Universities who sense an opportunity to venture into online education need to tread carefully if they think they can compete with Southern New Hampshire and Western Governors, he said.
"Those are huge, scale-based programs, with 100,000 students," he said. "They have these gigantic call centers that do marketing. That is not super replicable. That's like saying you want to start a search engine and compete with Google."

The liberal arts, online
Not everyone is convinced scale is essential for successful online education. At the opposite end of the spectrum from giants like Western Governors and Southern New Hampshire is Minerva, a tiny private college that educates students online.
Founded as a non-profit by Ben Nelson, who made his money in Silicon Valley, Minerva just graduated its second class, with 124 students, in May. The college has no campus, and instead, pre-pandemic, students rotated through seven cities, from San Francisco to Seoul, living in residence halls but taking classes on their laptops.
Highly selective and deliberately small—Nelson said it received 25,000 applications and admitted 0.08% of them (pdf)—Minerva is built around a proprietary teaching software designed to keep students and professors engaged. The curriculum is structured and progresses over four years. The difference between online education at schools like Arizona State and at Minerva, Nelson said, is like "the difference between the sun and a cheese sandwich."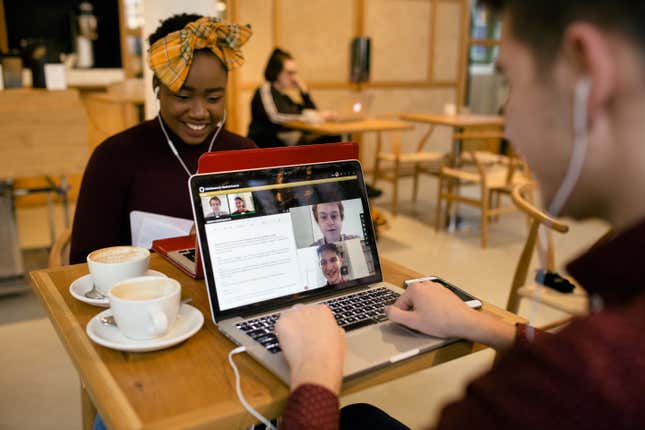 While its relatively low cost of attendance—$30,000 a year, with 80% of the students receiving financial aid—suggests its model might be replicable, Nelson doesn't think Minerva is the solution. Rather, it's the learning system and technology Nelson wants to distribute.
Nelson's for-profit ed tech company, Minerva Project, is working with Paul Quinn College, a historically Black institution in Dallas, to offer online courses this fall through its new Urban Scholars program. The program, intended to be selective, combines online course work with on-site work experience, and intends to graduate its students in 36 months. Tuition is $5,996 for the first semester this fall.
Nelson wants the Paul Quinn program to be a catalyst for greater change across higher education, where new methods of teaching and learning upend the old hierarchy based on tradition and reputation. Ultimately, he said, employers will hire the best graduates, regardless of where they earn their degree, and students and families will migrate to the schools offering those opportunities.
"When all of a sudden a Paul Quinn graduate shows up and vastly outperforms a Cornell graduate, (employers) are going to say, education matters," Nelson said. "I just can't imagine students won't vote with their feet."

Investing in the future
Ultimately, a shift to online education is necessary, said Arizona State's Crow. There just isn't enough physical space on America's campuses to educate the millions of future students. By 2051, the US population is expected to reach 400 million, and the demand for college degrees will only increase.
"Our physical infrastructure is designed for a country that's a fraction of that size," Crow said. "There aren't hundreds of new colleges being built."
For Neem, an online critic, the solution isn't shifting students online but reinvesting in physical campuses. America's great state universities are the envy of the world, and they were built with taxpayer dollars. Public spending on higher education has diminished over the last decade, with an increasing burden being placed on students. As a result, international universities—particularly those in China and Korea—are making rapid gains.
"It's a choice we can make," Neem said. "Other countries are doing what we did 40, 50 years ago. They're investing."
The alternative is a growing divide between wealthy students, who can afford the high-touch, enriching on-campus experience, and those who have to settle what Neem calls a "fast food" education. Those students may never know what a true college experience, with its potential to build critical thinking skills and generate knowledge.
"That is the greatest threat," he said. "If they don't know the difference until they experience it, they may think they are getting a college education when they're not."
This article originally identified Grand Canyon University as a for-profit university, which it was from 2004 until 2018. The IRS has since granted it nonprofit status, though the US Department of Education has said it will continue to treat it as a for-profit because of its financial structure.