Not long ago, hedge fund managers were deeply in love with General Motors.
Goldman Sachs equity analysts said the stock appeared the most frequently among the largest 10 holdings of hedge funds it examined, making it a more important position than Google or Apple. At the end of 2013, nearly 200 hedge funds owned GM, more than any other stock held by the nearly 800 hedge funds Goldman analysts looked at.
And then this happened.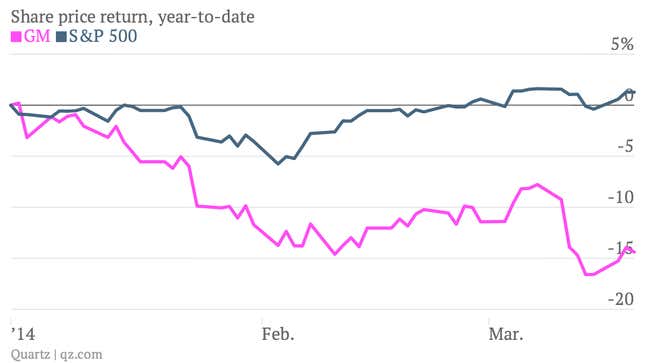 The underperformance of GM shares isn't a big mystery. An unsettling recall that the automaker issued in February is largely to blame. But it's a useful reminder that even financial titans don't call everything right.
Now, we should point out that the stock is still up about 25% over the last 12 months, slightly better than the 21% gain the S&P produced. So how funds fared on their GM bets depends a lot on when they got into the stock. For instance, David Einhorn's Greenlight Capital built the bulk of his position back in late 2011, when the shares were much lower. As of Dec. 31, Greenlight held a roughly $600-million position in GM. Meanwhile, Kyle Bass's Hayman Capital didn't even have a position in GM until the fourth quarter of 2013, when the fund bought roughly 4.6 million shares of GM, a position valued at $162 million, according to FactSet data. The price of the stock is down sharply since then.
In other words, even the big boys lose a few now and then.