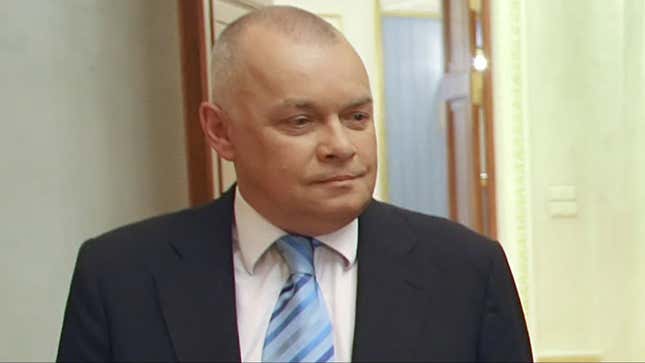 Throughout the conflict between Russia and Ukraine over Crimea, the European Union's response has often been belittled as tough talk backed by meek action. After Russian president Vladimir Putin made the annexation of Crimea official today, the EU added 12 more names (pdf) to its list of Russians facing travel bans and asset freezes. Including the names announced earlier this week (pdf), 33 government and military figures now face sanctions in the bloc's 28 countries.
The highest-ranking officials in the EU's new batch of names, which include deputy prime minister Dmitry Rogozin, overlap with those targeted by sanctions announced this week by the US, also in two batches. But unlike the US, the EU did not target any of the influential oligarchs or institutions closely linked to the Kremlin. The more muscular American approach has already spurred foreign-asset fire sales and financial isolation for those on its list.
Deeper economic ties with Russia makes the EU more circumspect about sanctions. The EU's rules on sanctions are also more open to legal challenges than the US's (paywall), which complicates any penalties imposed on people or institutions not directly linked to the seizure of Crimea. This is why it is curious that the EU has slapped sanctions on Dmitry Kiselyov, head of the state-run news service Rossiya Segodnya.
Of all the people targeted by the EU, Kiselyov has the most tenuous links to the standoff in Crimea. Granted, the broadcaster (dubbed Putin's "chief propagandist") has banged the drum for the annexation of Crimea and painted the pro-European protestors in Kiev as deranged nationalists. He famously warned that Russia could reduce the US to "radioactive ash" in a broadcast earlier this week:
But what will the EU accomplish by sanctioning a belligerent broadcaster? The power of propaganda cannot be underestimated, but targeting a journalist—or someone who plays one on TV—risks a very public backlash. A professional communicator, after all, is unlikely to keep quiet about the affront. 
The US sanctions have prompted shadowy oligarchs to dump billions of dollars and the central bank's reserves to steadily drain away. The EU's decision to pick a fight with someone whose primary assets are hot air only serves to confirm its fixation with rhetoric over reality.