The sanctions imposed on Russian officials by the US and Europe yesterday were milder than many expected, sparking a rally in Russian markets. Stocks surged and the ruble jumped against the dollar, lifting it off multi-year lows.
The ruble had another wild ride today, giving up most of yesterday's gains in the morning and then jumping sharply in the afternoon on Russian president Vladimir Putin's defiant speech to parliament. For what it's worth, in his speech today Putin pledged that Russia would not annex any other parts of Ukraine, around which time the ruble began to rise: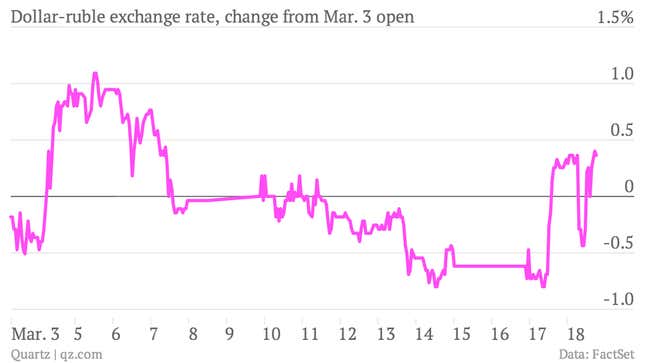 It is always hard to explain market moves. And when geopolitics is involved, it becomes murkier still. But here's what we do know.
The latest data from Russia's central bank shows that it spent more than $4 billion yesterday to prop up the value of the ruble. This was Russia's second-largest intervention in currency markets since Mar. 3, when the central bank unexpectedly hiked interest rates and boosted the amount it was authorized to spend to support the ruble.
Normally big interventions come on days when the ruble is under heavy selling pressure, but yesterday it gained around 1% against the dollar. The central bank publishes data on its currency interventions with a one-day lag, so we don't yet know how much it spent fuelling the ruble's rise today.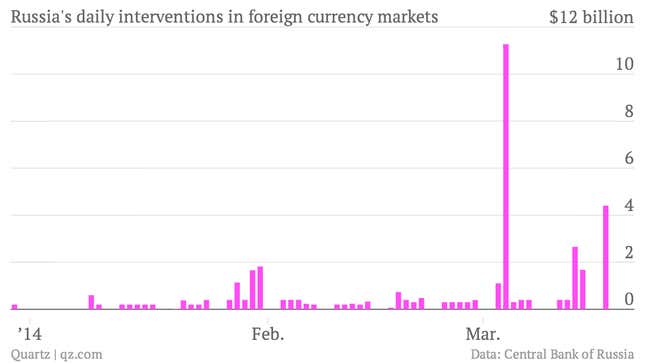 Earlier this month, Putin summoned senior economic officials, including central bank governor Elvira Nabiullina, to express his displeasure with the country's faltering economic growth outlook. Jittery investors are pulling money out of the country, with more than $50 billion in capital flight projected for the first quarter this year, not far from the $63 billion that leaked out of Russia during the whole of last year.
Russia's central bank is sitting on some $440 billion in foreign exchange reserves, so the country isn't in danger of an imminent cash crunch. Still, the bank has spent $23 billion in currency markets in the past two weeks alone. Previously, these funds were deployed to stem declines in the ruble's value, but well-timed interventions can also extend rallies, as was perhaps the thinking yesterday and today.
To some degree, relief over the limited scope of Western sanctions has powered the rise in Russian assets over the past two days. But don't discount the role of central bank dipping into its coffers to give markets an extra push, officially in the name of "financial stability" but just as importantly to reinforce the notion that sanctions won't hurt the economy. With no lack of hubris, Russia's parliament passed a motion today calling for the US and EU to impose sanctions on all 450 of its members.