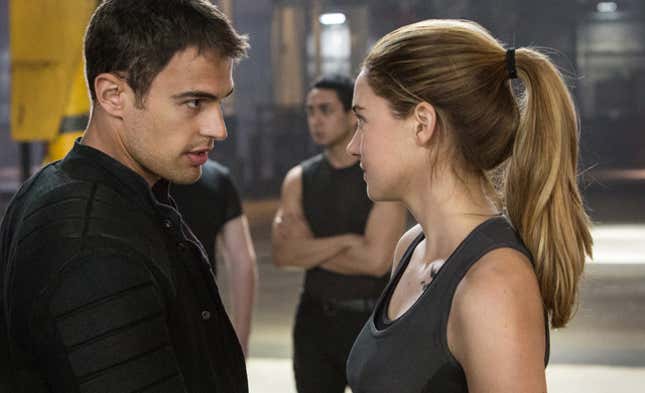 The much-hyped feature film Divergent, adapted from the cult young adult novel about a dystopian future, drew $56 million at the box office on its opening weekend in the US. And the markets can't make up their mind about whether that's a good result or not.
After trading up sharply early  this morning, shares of Lionsgate Entertainment, which is distributing the picture, are hovering around the unchanged mark. Last week, the stock sank by about 15%  due to an underwhelming critical reception for the film. For Lionsgate, which has had a string of gigantic teen box office successes including the Hunger Games and Twilight franchises, it remains to be seen whether Divergent is the next one.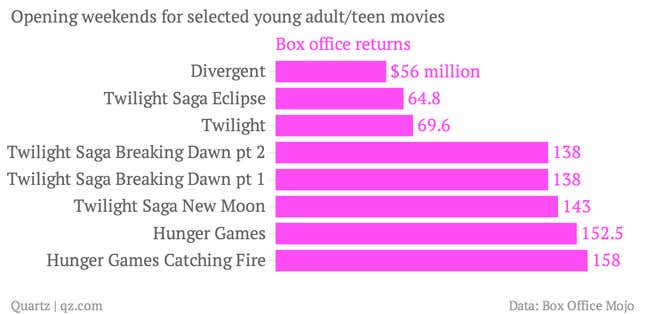 As the chart above shows, the result places Divergent among the weakest opening weekend returns for recent flagship young adult releases from Lions Gate entertainment. Divergent is critical for the film production and distribution company, which is looking for another bankable young adult franchise to replace the wildly successful Hunger Games trilogy, which is slated to conclude with a final installment in November. Two sequels to Divergent are already in the works.
But the critics' lukewarm response may not be the final word. Among the recent teen blockbusters listed above, Divergent shows the biggest difference between Rotten Tomatoes's "Tomatometer"—an index of critical reviews (from critics approved by the website)—and the average audience rating, at minus 41 percentage points. In other words, audiences like the movie much more than critics did, at least so far.
By contrast, critics and audiences were aligned in their (glowing) assessments of the first two installments in the Hunger Games trilogy, which also happen to be the recent young adult releases that did the best at the box office.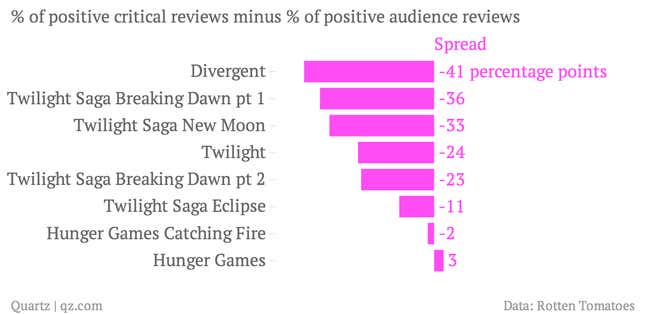 Lionsgate executives may take heart from the experience of the hugely successful Twilight Saga movies. Critics and audiences were also split when it came to those movies, but the saga went on to become one of the most successful movie franchises in history, together reaping more than $3.3 billion in box office returns globally, according to Box Office Mojo.
Analysts at the investment house Piper Jaffray remained upbeat, declaring that the opening weekend results for Divergent indicate that a "new franchise is born" for Lionsgate. They still expect Divergent to gross $150 million in US theaters.