Netflix shares are cratering today, on news that Apple is in talks with Comcast to gin up a new streaming television service.
Netflix shares were down about 7.3% on the news, making them the worst performer in the US benchmark S&P 500 index. The decline brings Netflix's year-to-date gain down to about 2.6%. (In early March, the shares were up nearly 24% since the beginning of the year.)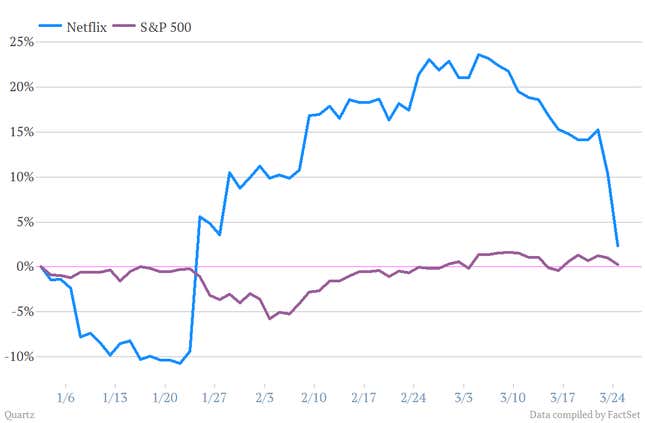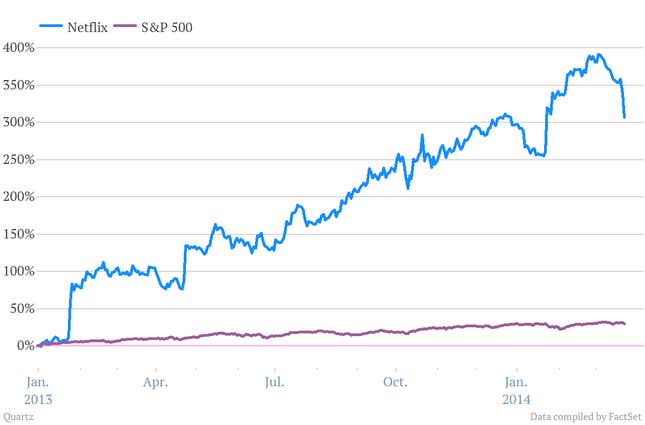 Monday's performance for Netflix was its worst since the 9.2% decline it saw on Oct. 22, after activist investor Carl Icahn announced he was lightening up on his stake in the firm. Of course, even with today's selloff, Netflix shares have been the investment of a lifetime. Since the end of 2012, the stock is up more than 300%, compared to a 30% gain for the S&P 500. But with Apple showing increasing interest in the streaming video sector, Netflix looks like it will no longer be the unquestioned king of a rapidly developing new market. In other words, investors who have ridden the stock for a while might be thinking it's time to take some chips off the table.