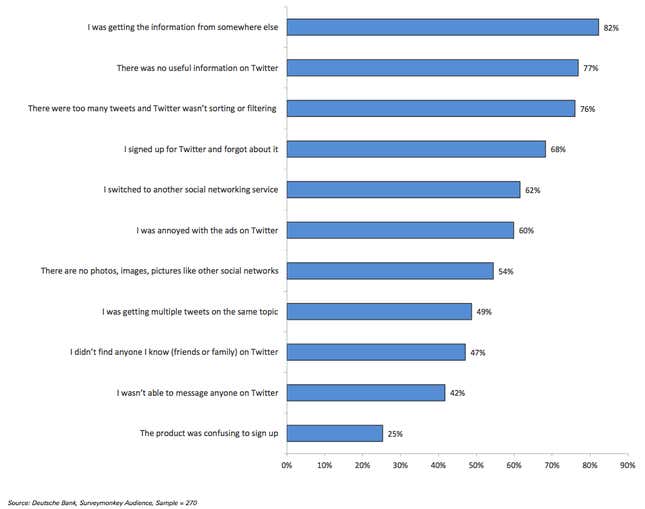 In short, it comes down to not knowing who to follow and not having enough followers.
On Wall Street and in Silicon Valley, people are increasingly concerned about Twitter's slowing user growth, and signs that those who do use the service are using it less. This week, Deutsche Bank released a survey of 1,100 people who are current users, lapsed users, and who have never used Twitter. As the above chart shows, the top three reasons why people who tried Twitter and stopped using it quit boil down to their inability to find and filter stuff that matters to them. There's no shortage of information on Twitter, so Deutsche describes this as a "curation" problem, rather than a content problem.
But more encouragingly for Twitter nearly 60% of former users said they'd be willing to give it another go and the following improvements would  motivate them to do so: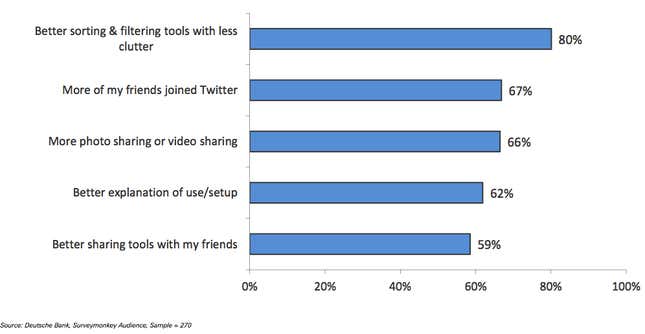 The top factor again comes down to better curation and filtering, something that's in Twitter's power to solve.  (The second biggest factor, getting more friends on Twitter, is less straightforward. )
One way to solve the curation problem is to help new users figure out whom to follow more easily. (Twitter is working on features to rectify this, but the survey found that most users aren't aware of the existing "Discover" view, which is supposed to do just that help.) Quitters also tend to have very few followers themselves, suggesting that helping people amass followers would make them persist with the product.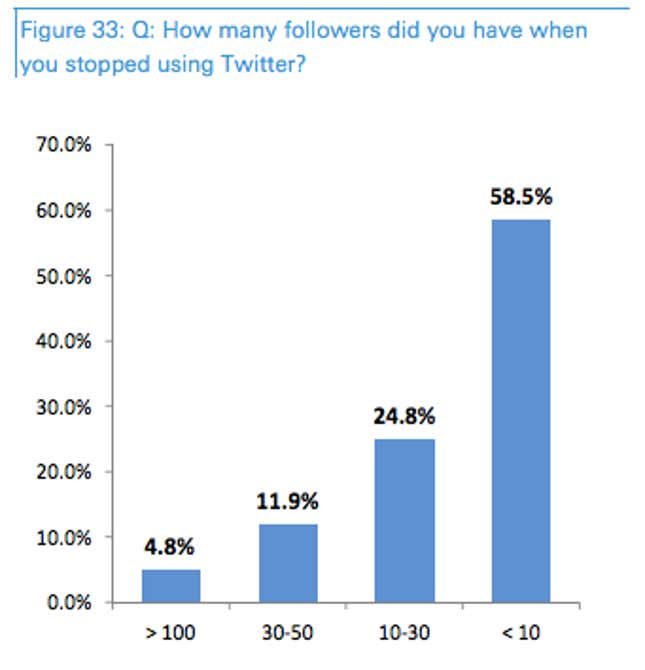 Twitter is in the post-IPO doldrums.  It's stock price has fallen 24% this year and could fall further in May when the first major "lock-up" period expires and a deluge of shares (some 475 million of them) held by employees become available for sale.
But Facebook went through an even more difficult process after its IPO in 2012, amid widespread skepticism over its ability to get people using it on mobile devices. Nearly two years later, it's in rude health.  LinkedIn similarly stagnated after its IPO, but managed to fix the problem.  So there are reasons to believe Twitter, in time, can do the same.