2020 has been a momentous year for Netflix. Several streaming competitors have launched, from traditional television rivals like Peacock and HBO Max to the short-form video startup Quibi. The proliferation of streaming alternatives represents a new chapter for Netflix, which pioneered the category and its business model. But 2020 has turned out well for the company for reasons no one could have predicted: the global coronavirus pandemic. The streaming service added more than 26 million global subscribers in the first half of 2020, beating both Wall Street estimates and its internal forecast by several million in the first quarter.
Quartz's latest presentation breaks down the big changes for the company and the industry over the past year.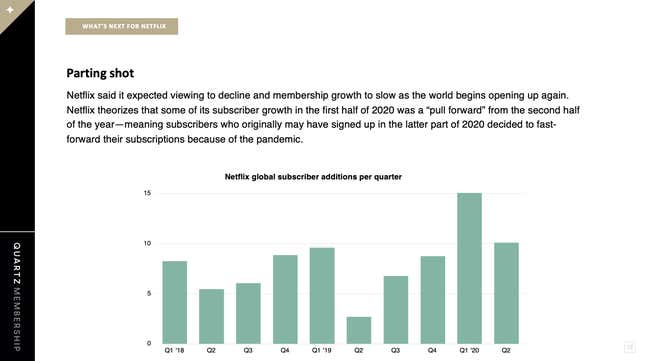 With the pandemic slowing down new productions, Netflix has another advantage: a pipeline of content that will enable it to remain in a strong position relative to its competitors.
"Our content competitors and suppliers will be impacted about as much as we are, in terms of new titles," the streaming service wrote in its letter to investors. "Since we have a large library with thousands of titles for viewing and very strong recommendations, our member satisfaction may be less impacted than our peers' by a shortage of new content, but it will take time to tell."
Netflix's next stage depends on its ability to create blockbuster franchises—an Avengers or Star Wars, not Bojack Horseman. In July, Deadline reported Netflix is throwing $200 million at a blockbuster action thriller starring A-list actors Chris Evans and Ryan Gosling, to be directed by Avengers: Endgame duo Joe and Anthony Russo. "The idea is to create a franchise and build out a whole universe," Joe Russo told Deadline.
Other changes on the horizon? Observers see product placement as a question of "when" not "if" for Netflix, and though it has pledged not to have commercial breaks it has still found ways to partner with advertisers.
Keep scrolling to see all of the slides. Or, if you'd prefer, you can view the PDF version or download the PowerPoint file, which includes our sources and notes. This is one of an ongoing series of member-exclusive presentations, which you can read, reformat, and use as you wish. You might also like our field guides on Netflix, the Streaming wars, and the TV ad of the future.
Please share any feedback about what would make these presentations more useful—or topics you'd like to see us cover—by emailing us at members@qz.com. These presentations are an exclusive benefit for Quartz members. We'd love it if you'd encourage any friends or colleagues who express interest to become a member so they can access them too.