Some Europeans like to exercise; others seem to avoid it at all costs.
A new study released by the European Commission titled Sport and Physical Activity (pdf) shows that Scandinavians aren't merely happy—they're also remarkably healthy. A minuscule 9%, 14%, and 15% of Swedes, Danes, and Finns, respectively, never exercise. At the other end of the spectrum, alarmingly high percentages of Bulgarians (78%), Maltese (75%), Portuguese (64%), Romanians (60%), and Italians (60%) claim to never exercise. The European Union average is about 42%.
Mapped out, an interesting trend emerges. "Generally speaking, citizens in the Northern part of the EU are the most physically active," the report notes.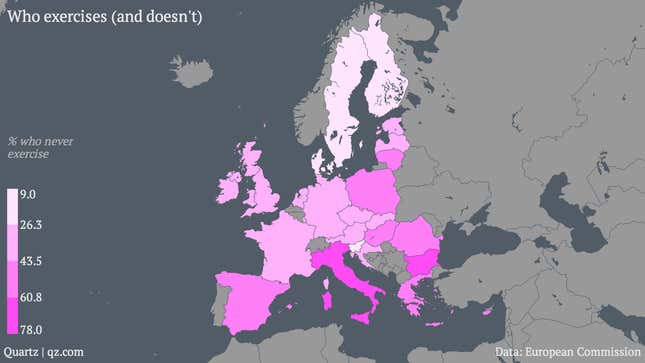 The picture shuffles slightly, but hardly so, when the measure is instead engagement in other physical activities, such as bicycling, dancing, or gardening. Portugal, Malta, Cyprus, and Bulgaria still top the list of exercise aversion—60%, 57%, 57%, and 51% of each country's citizens, respectively, claim to never engage in those other physical activities either. The proportions of northerners who are total couch potatoes are tiny: Swedes (4%), Dutch (6%), Danes (6%), and Finns (7%).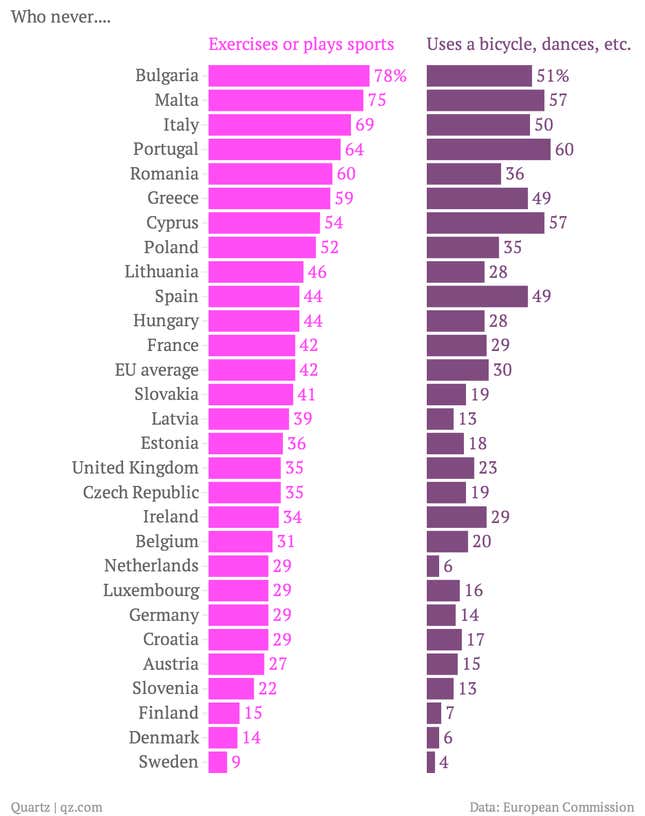 In Sweden, the love of exercise and general activity goes hand in hand with long, healthy lives. Swedes live roughly 80 years on average, according to the European Commission, which is the longest life expectancy of the countries surveyed. Those inactive Bulgarians live only 71 years on average, which is the third lowest. But lethargy doesn't always correlate with shorter life spans. The Maltese, Portuguese, and Italians might skip out on the gym, but they live a good deal longer than the EU average life expectancy—78.6, 77.3, and 79.8, years respectively.
There's also at least one other indicator working in favor of countries like Portugal and Malta. The study found that many of those who are most fond of exercise are also most likely to spend larger portions of their day sitting: 25% of Danes, 25% of Dutch, and 21% of Swedes sit for more than 8.5 hours per day (perhaps they have more desk jobs). 33% of Portuguese and 30% of Maltese, however, spend 2.5 hours or fewer sitting down each day. Bulgarians, on the other hand, it seems, are intent on neither exercising, nor leaving their seats.