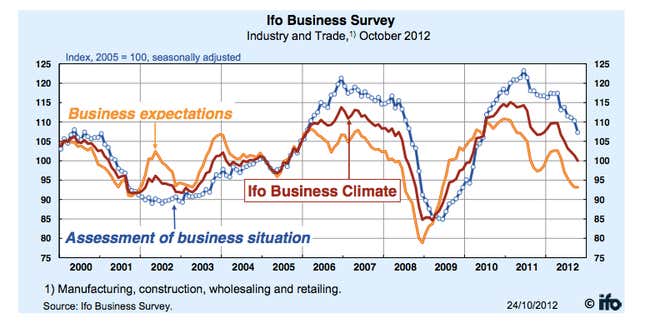 The business news isn't great from Germany today.
The German business climate is continuing to deteriorate, according to the latest Ifo Business Climate survey of 7,000 executives. Business confidence among these leaders of trade and industry dropped for the sixth time in a row and has hit the lowest point in more than 2 1/2 years. The drop in sentiment is worse than expected.
Meanwhile Volkswagen reported a 1.6% drop in nine-month operating income, while Heineken's third quarter sales missed analysts' forecasts.
It doesn't get any better outside of Germany. Early reports suggest manufacturing and services industries in the euro zone will contract for a ninth month. Today's news drove the euro to a one-week low against the dollar.
Paul Donovan, a senior economist at UBS, offers some hope amid the gloom, though ends on a typical cautionary note.
We do think the euro area has positive growth in 2013, a step forward from this year's negative number. But at the same time, the problems of a monetary union that does not work mean poor growth for a prolonged period.