With King, the London-based game maker behind the incredibly successful Candy Crush Saga, expected to price its initial public offering tonight, we've been given an ideal opportunity to look back at the sizzling growth of the digital and mobile gaming space.
In short, it's gobsmacking.
While music, media and movie industries have all struggled to reconcile their business models to the digital age, video games have been a perfect fit. Consumers spent $34 billion on downloadable video games last year, according to App Annie, more than four times what they  spent on online movies, for example.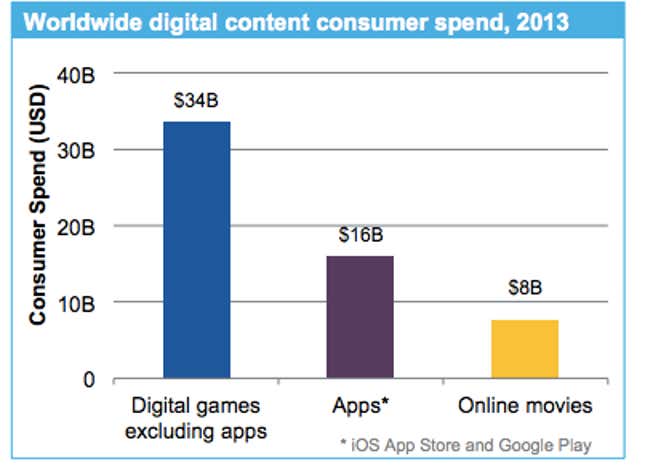 And that $34 billion figure doesn't even include the lion's share of the $16 billion in spending on mobile apps that goes to games. Macquarie Equities analysts report that 91% of purchases in Google Play, 80% of iPhone app purchases and 72% of iPad app purchases in the iOS store were tied to games.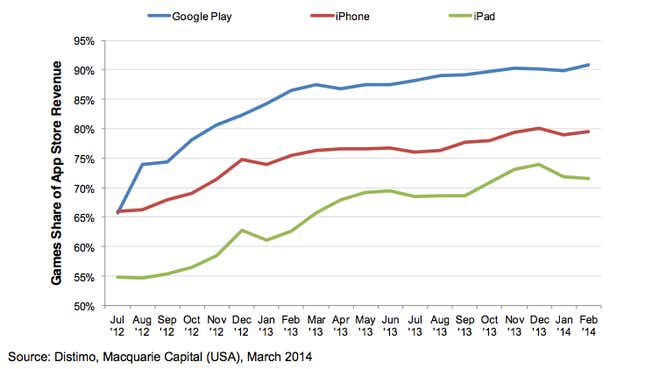 Why has mobile gaming been so successful? A lot of it has to do with the "free-to-play" pricing model. Essentially, apps are free to download, but players then buy things within the game. Last month, nearly all of the top 100 grossing apps  on the major mobile platforms used this model.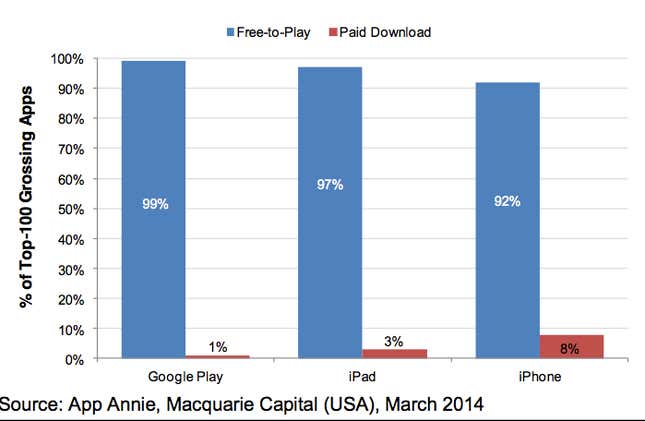 King's games like Candy Crush Saga are free-to-play too. Essentially, if a user gets stuck on a certain level, they can pay to make progress, or to unlock new episodes. Only 5% of King's users actually buy things when playing the game. But Candy Crush has a massive base of users.  (It was around 408 million average monthly average users in the December quarter). So even if a relatively small sliver of players make purchases, it still generates solid profits.
As we recently noted, King is profitable. The company made $568 million last year. That in itself is an achievement, given 56% of tech companies that went public last year were losing money, according to PwC.
The big question is whether King's profits are sustainable. According to the company's IPO filing (p5). both revenue and profit began to slow in the fourth quarter of 2013.

The company claims to have the industry's most rigorous testing model for new games, and two of its other apps, Pet Rescue Saga and Farm Heroes Saga, have also been successful. But skepticism remains.  "The red flag for this IPO is that King's revenues and fortunes are built on one game," Michael Yoshikami, chief executive of Destination Wealth Management told Reuters  "I would be inclined not to invest in stock like this."