King, the Swedish company behind the insanely addictive Candy Crush mobile game, is firming up its IPO plans. This morning it released an updated regulatory filing, setting the price range for the offering, which implies a valuation of up to $7.6 billion for the business.
But before jumping to conclusions about what this says about the increasingly frothy-looking valuations among new tech companies, it's worth pointing out that King is not just profitable; it's highly profitable. The company made $568 million in real money last year.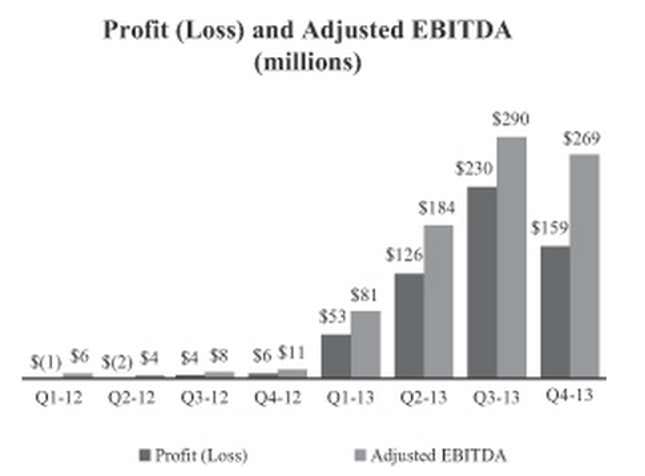 By way of comparison, Zynga, the company behind Farmville and Words with Friends, whose share price has struggled since its 2011 IPO, lost $37 million in 2013, while EA Sports, which makes the video games Madden NFL and FIFA, made $98 million in the 12 months prior to March 2013. Among recent high-profile tech IPOs, Twitter and Groupon remain in loss-making mode and LinkedIn eked out a $15-million profit the year before it went public. You have to go back to Facebook (which made $1 billion in 2011) to find a more profitable tech company than King before going public, in nominal dollar terms, according to a list provided to Quartz by Dealogic.
How does King make money? Its addictive games are free to download and use, but it generates revenue by selling "virtual items" to players who are seeking to "enhance their entertainment experience"—for example, if a player gets stuck on a certain level, she can buy boosters to progress or unlock new episodes. Only about 5% of its user base choose this option, but it had more than 400 million monthly active users last month.
King's profit last year was dramatic increase from the $7.8 million it made in 2012. Which goes some way toward highlighting the real risk facing the company. Candy Crush Saga, released in November of that year, was an enormous hit. But will the company be able to replace it?
As of today, three of the company's apps (Candy Crush, Farm Heroes Saga and Pet Rescue Saga) are listed in the top-10 high-grossing iOS apps by App Annie, which suggests that it is developing a track record. King argues in its filing that it has an "unparalleled" development process for new games, which involves testing with its most engaged users on its desktop site before new games are rolled out on Facebook and mobile. This, it says, helps the company "develop games faster, at lower risk and at lower cost than our competitor."
Will the company be able to keep churning out hits? The market will be the ultimate judge.