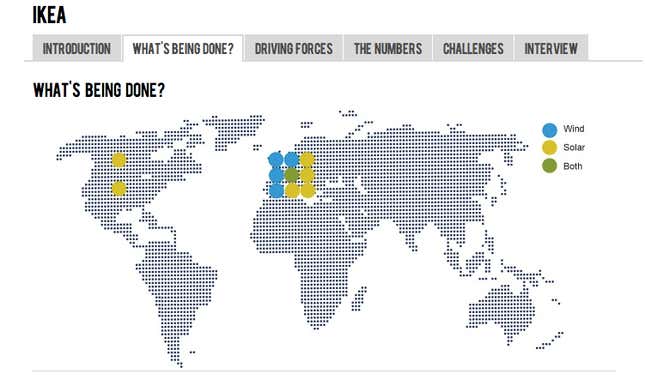 Swedish furniture maker IKEA has announced plans to invest in clean energy with the goal of becoming energy independent. Steve Howard, chief sustainability officer at IKEA Group, said the aim is to meet 70% of the company's energy demands in three years, and 100% by 2020.
The initiative, called People & Planet Positive, €1.5 ($1.95 billion), is going into solar and wind energy projects. Already the company has begun installing solar panels on stores and buildings around the world, and bought wind farms in countries including France, Germany, and Scotland. The long-term plan calls for the company to produce as much renewable energy as it consumes at its IKEA stores and buildings, and also help customers save energy by using more efficient products, as well as suppliers.
Fueling the idea is the need to save money. Clearly IKEA executives are betting that fossil-fuel prices will rise at a time when the company is planning a massive expansion. Yesterday, the company announced it expected to increase revenue up to 85% by 2020 (paywall), and double the number of customers coming into its stores annually.