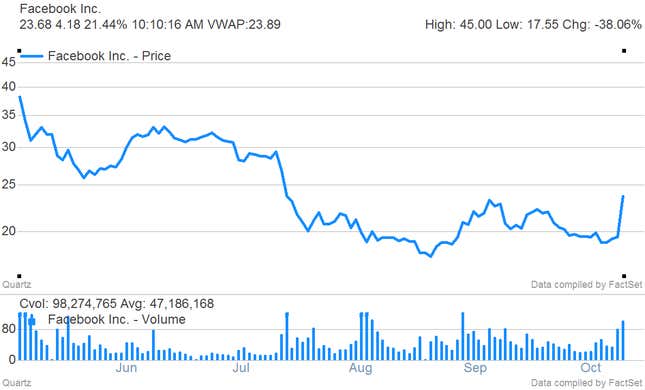 Facebook's news that it made 14% of its ad revenue on mobile devices are music to Wall Street's ears. The stock is up roughly 22% Wednesday morning, after a stronger-than-expected earnings report from Zuckerberg & Co. After the results, Credit Suisse analysts wrote
With proof of concept for Facebook's ability to create relevant products to monetize its mobile traffic firmly established, investor focus will shift next to how quickly it will be able to close the monetization gap between PC and mobile given the apparent migratory trend for some users away from desktop.
Or, in plain English, "Facebook has shown it can make money on mobile. Now let's see if they can get closer to making as much as they do on desktops."
Facebook also says that peppering news feeds with more ads doesn't seem to be turning off users. And JP Morgan analysts liked the sound of that, though they sounded skeptical. They wrote:
Management highlighted that mobile users are 75% more likely to use Facebook on any given day compared to desktop users. While there has been some concern about the influx of ads in the News Feed, Facebook indicated that it is seeing limited impact on engagement, and also suggested that ad inventory in the News Feed could continue to increase, particularly as ads become more relevant and higher quality. We are encouraged by management's comments, but believe that the trade off between a more crowded News Feed and individual user engagement levels will continue to be a major focus going forward.