Update: In a story published March 2, 2015, at our sister site The Atlantic, Keurig K-Cups inventor John Sylvan expressed regret about having invented a product that produces so much waste. "I feel bad sometimes that I ever did it."
Coffee pods are really popular right now.
Sales of single-serve coffee—the kind first popularized in the US by Keurig, and widely known as K-cups—have more than tripled since 2011, MarketWatch reported in November. As of a year ago, 13% of Americans drank a coffee made in a single-cup brewer each day, according to a survey by the National Coffee Association. K-Cups alone now account for more than a quarter of the US market for ground coffee. An analyst at SunTrust bank shared this eye-catching chart last year: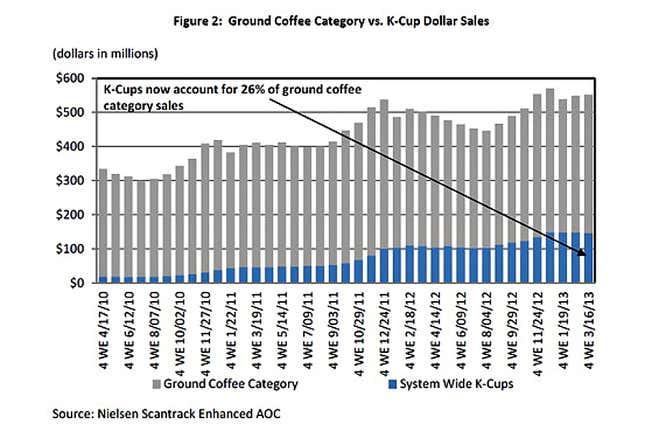 "You see single-cup machines popping up in more businesses and even apartment buildings," Ken Perkins, an associate equity analyst at Morningstar, told MarketWatch this past fall.
Actually, they're just popping up everywhere. In the US, coffee pod machines sales have multiplied more than six-fold over the past six years—from 1.8 million units in 2008, to 11.6 million in 2013, according to data from market research firm Euromonitor. Meanwhile, drip coffee maker sales have been pretty stagnant.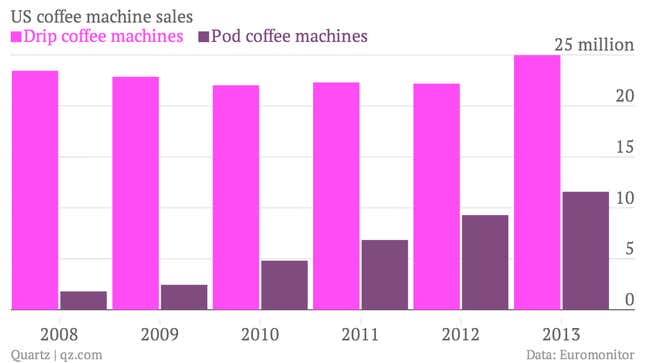 The craze is hardly specific to the US. In fact, it's arguably even more prevalent in Europe. Pod machines sales outpaced drip coffee makers in Western Europe for the first time last year.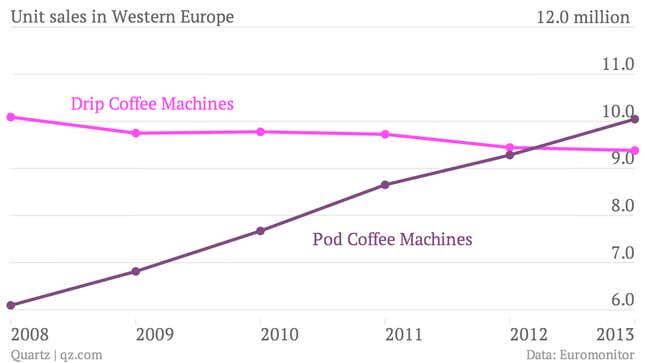 All of this is great for coffee pod makers' bottom lines. Green Mountain, which acquired Keurig back in 2006, is swimming in profit—the company netted nearly half a billion dollars last year, most of which came from selling K-Cups and K-Cup machines. And Nestle is believed to turn a hefty 30% profit on its Nespresso coffee pod business (paywall). As of 2012, Nespresso had sold more than 27 billion pods worldwide. The machines are so widely used that they can even be found in over 700 Michelin-starred restaurants around the world.
The popularity of pods, however, is also taking its toll on the environment. Only 5% of the little pods Green Mountain makes are currently recyclable, according to Mother Jones. The other 95% are made of a non-recyclable composite plastic. The company is well aware of its shortcomings, and has vowed to make all of its pods recyclable by 2020.
"We can get to a cup of coffee dozens of different ways," Martin Bourque, director of the Ecology Center, a non-profit in Berkeley, California, told the East Bay Express last year. "The best way is a large volume of coffee that goes into a cup that's washed and re-used a thousand times, and the coffee goes to compost or mushroom production. That's best-case scenario. The worst-case scenario is these pods."
The sheer volume of pod waste is staggering. As Murray Carpenter notes in his book Caffeinated, the K-cups discarded in 2011 would have encircled the globe more than six times, and in 2013, more than 10 times. Across the coffee pod industry, hundreds of millions of pounds of unrecyclable trash are now being made, used, and then tossed away each year in the US.