More people are watching TV over the internet, but they're not using their TVs to do it. Here are the BBC's latest data on usage of its streaming video service iPlayer, by type of device: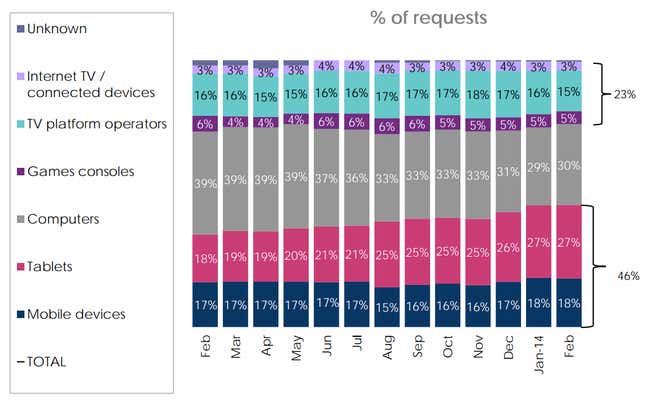 All of the growth over the past year is among people watching shows on their tablets. Nearly half of the BBC's 234 million video streams last month were on tablets and phones. Computer use, meanwhile, has declined to below a third.
But most striking is that the share of iPlayer usage on television sets—through smart TVs, gaming consoles, and streaming media boxes—hasn't increased at all. It remains the smallest category of device:
Tablets and phones (46%)
Computers (30%)
Television sets (23%)
The data suggest a divide between live (also known as linear) television and on-demand viewing: people in the UK still watch plenty of live television the old-fashioned way, on the biggest screens in their living rooms. But for catching up on episodes of Top Gear that have already aired, they prefer smaller devices closer at hand. BBC iPlayer can be used for live viewing, but 88% of its video streams last month were for on-demand programming.
Watching TV over the internet also ends up pushing back primetime, when viewing is at its peak, from 9 o'clock in the evening to 10 o'clock. (Note that the scales for each line in this chart are not equivalent because live viewing of the BBC still far exceeds BBC iPlayer.) On-demand goes later into the night.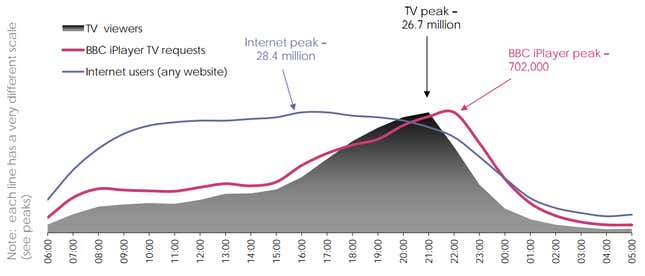 The full report on BBC iPlayer usage is here (pdf).