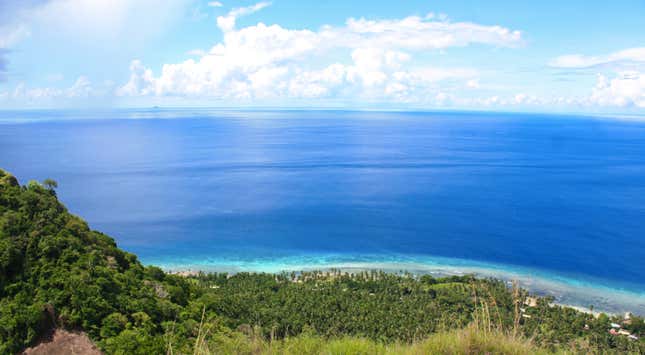 The 107 islands at the southernmost tip of the Philippines that make up the province of Tawi Tawi are fringed with white sand beaches, ringed with coral and and aquamarine water, and are home to green sea turtles and a host of rare birds species. They're also a suspected hideout for one of southeast Asia's most dangerous separatist groups, which targets foreign tourists.
Malaysian and Filipino officials are searching Tawi Tawi for two women abducted from a Malaysian dive resort this week, who are believed to have been taken by the al-Qaida linked terrorist group Abu Sayyaf. Philippines Lieutenant Colonel Ramon Zagala said the hostages are believed to have been taken to Simunul, a majority-Muslim town of about 35,000 people that is spread over on two islands in Tawi Tawi—more than 1,000km from Manila, and a day's boat ride from where they were abducted.
The Philippines government and the largest Islamic separatist groups recently signed a peace agreement after decades of clashes—but Abu Sayyaf and several other smaller separatist groups were not party to the agreement. The government hoped the peace deal would usher in new industry and tourism to the southern part of the island nation, but this week's kidnapping shows how difficult that may be to make a reality. Tourism makes up 7% of the Philippines GDP (pdf, pg. 5) and nearly 8% of the country's jobs, figures the government projects will grow steadily in coming years.
The Tawi Tawi government made a big push to attract tourists several years ago, despite the area's frequent kidnappings of foreigners, who are often ransomed and returned.  "If you come here, you should hire a security guard to make sure you are safe," one hotel operator told The New York Times in 2012. The kidnapped women could be held for weeks, a former US special forces officer who aided in the release of a previous kidnapping told the South China Morning Post.
That campaign appears to have been halted. A nation-wide tourism website "It's more fun in the Philippines" no longer includes Tawi Tawi among its destinations.