John Legere's wild, unconventional tactics at T-Mobile seem to be paying off.
Consumers now think the fourth biggest carrier in the US is just as good value as the biggest. T-Mobile has closed the gap with Verizon Wireless in "value perception", according to YouGov's BrandIndex.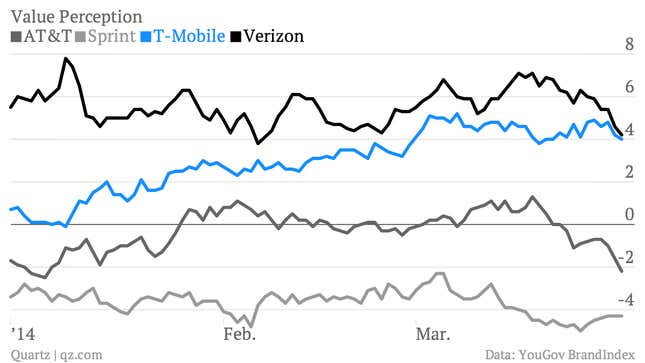 Legere's headline-grabbing antics aside, T-Mobile's resurgence is mainly thanks to aggressive pricing: It has simplified its plans, offers to pay termination fees for people who switch to it from other networks, and offers free global roaming, among other things.
But in the smartphone era, "value" in wireless communications isn't just about price. Verizon's persistent place at the top of the table is proof of that. Verizon is generally considered to have had the highest quality mobile network in the US for a while now, but it also charges the highest prices.
T-Mobile, on the other hand, was long considered to have the poorest network of the four, although it has been working to improve it. Consumers are obviously starting to find its low prices and improved network enticing. For the first time in four years, people intending to switch carriers in the next six months named it as their most likely destination, in YouGov's survey.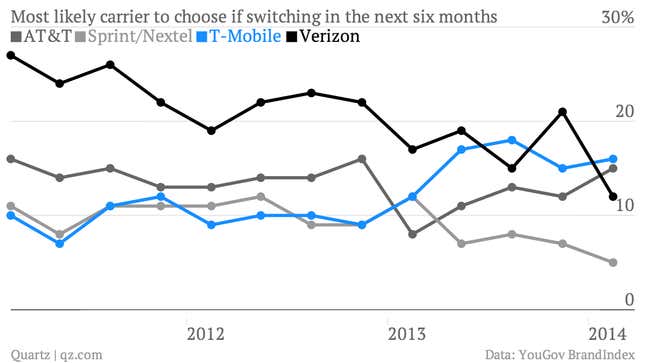 As always, the proof of the pudding is in the eating, and we'll have a clearer picture of how things really stand when T-Mobile's releases its next quarterly numbers in May.