In the US jobs report this morning, attention was on the slightly disappointing 192,000 increase and the unmoving 6.7% unemployment rate. But the market did notch a milestone of sorts. The Bureau of Labor Statistics reported that the total number of private sector jobs climbed to 116.1 million. That's higher than the previous peak in January 2008, when there were just shy of 116 million private sector jobs.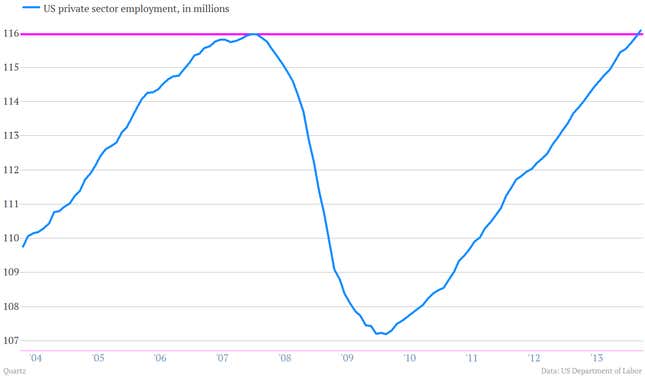 Does this mean everything is hunky-dory? No, because millions of extra people have reached working age since that peak. (That's one reason labor-force participation among working age people is quite low.) Still, it's "an important—and overdue—milestone on the path of normalization for both the labor market and, by implication, the economy," wrote Ward McCarthy, chief financial economist at Wall Street firm Jefferies.
But when it comes to all jobs—not just the private sector—the US is still below the high-water mark set in early 2008, by about 440,000 jobs. With any luck, that's about two months of job growth.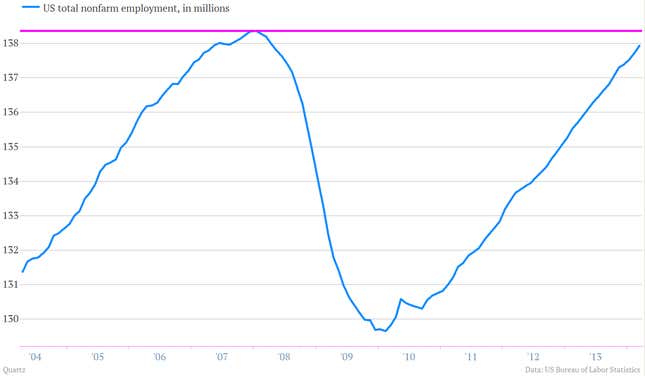 And the main reason we're short of the the January 2008 high of 138.4 million jobs is because government employment remains about 550,000 jobs short of what it was back then.