In a few weeks, Etihad Airlines and Emirates will pilot a new system that many hope will make international air travel during the pandemic safer and simpler.
Starting with routes to the Persian Gulf, passengers on UAE's carriers will be asked to use Travel Pass, a handy "digital health passport" developed by the International Air Transport Association (IATA), a trade union whose members account for 80% of the world's air traffic.
Travel Pass is one of several app-based "passes" being considered to facilitate travel as the coronavirus pandemic enters its second year. CommonPass, a World Economic Forum-backed platform, is being tested by United Airlines, JetBlue, Lufthansa, Swiss International Airlines, and Virgin Atlantic. Singapore Airlines is using a QR code-based credential called AOK Pass in routes between Singapore and Japan. And Clear, a US-based pre-flight screening platform, has introduced Health Pass, a credential based on the passenger's biometric data.
Nick Careen, IATA's SVP for airport, passenger, cargo, and security, explains that something like Travel Pass is especially critical now because governments, for the most part, have left the task of assuring passengers' health to commercial airlines.
In the US, for example, the latest travel guidance states that "airlines must confirm the negative test result or proof of recovery for all passengers two years of age and over prior to boarding." "Air travel hasn't restarted in any real meaningful way, but when we do, we can't afford not to have this system in place," Careen says.

Sorting out the politics
Travel Pass is designed to address the hassles and hazards of traveling abroad while Covid-19 still dictates the rules of daily life. The first hurdle is administrative. The app aggregates the most up-to-date testing and quarantine requirements for all 195 countries—something that is still changing by the hour, Careen tells Quartz. "We're monitoring every rule and every change. It is a big task, but it's something that we've had a very solid experience in," he says. The app is integrated within Timatic (short for Travel Information Manual Automatic), a system 90% of airlines use to verify travel documents.
Like CommonPass, Travel Pass contains a registry of labs accredited to issue Covid-19 tests and vaccines. Using an encrypted electronic system, Careen believes, will lessen the instances of fraud prevalent in paper-based vaccination records. The app was developed following guidelines set by the World Health Organization (WHO) and the International Civil Aviation Organization, a UN agency that regulates air travel and prioritizes the passenger's right to control the data they share with airlines and governments. Travelers without smartphones will be issued an ID card with a QR code.
"To us, this Travel Pass is one component of the biosafety measures that we've already developed," Careen says, noting the range of interventions like cabin sanitizing, mask-wearing, and social distancing now in place among its 290 member airlines. "We're ready to go. The question is about waiting for when governments will be ready."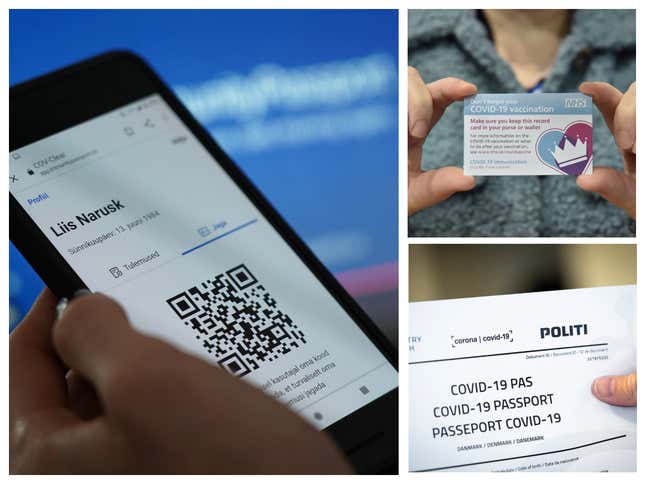 Settling the standards
But before air travel can take off, agencies must contend with the biggest hurdle of all: consensus.
This conundrum becomes clearer when we survey the growing number of "health passports" being developed beyond the aviation industry. Several big tech companies, startups, health systems, foundations, and local governments have developed and branded their own solutions geared for restarting offices and large events. They range in technology and format—from plastic ID badges and smartphone apps, to traditional paper certificates. An invisible tattoo using quantum dot dye technology was even briefly considered as an extreme form of portable health records.
While a great showcase of ingenuity and responsiveness, the free market for Covid-19 passport solutions creates problems. Experts contend that when it comes to travel health credentials, being understood across borders matters more than choice. "The goal is to have the kind of interoperability in the same way that email platforms like Outlook and Gmail can talk," explains Lucy Yang, co-chair of the Covid-19 Credentials Initiative (CCI). This means assuring that a negative test obtained in one country will be acceptable in another location.
CCI, a consortium of about 300 tech startups and experts working on open-source software, posits that a relatively new transaction verification protocol called Verifiable Credentials would better safeguard the privacy of individuals and the veracity of the information. CCI's solution is in contrast to Common Pass's system, which hinges on storing lab results via Apple Health or the CommonHealth app on the user's phones.
In many ways, the debates over Covid-19 health passports recalls the problem that led to the League of Nations to call for the standardization of travel papers in the 1920s. After World War I, train travel across Europe flourished and border agents were besieged by the variety of certificates, booklets, and pamphlets travelers presented. The League of Nations called the matter "a serious obstacle to the resumption of normal intercourse and to the economic recovery of the world." That year, the "Paris Conference on Passports & Customs Formalities and Through Tickets" met to agree on the size, layout, and graphic design of passports—a template we still use today.
Ultimately, the world is looking to the WHO for guidance on vaccine certificates. To this end, the organization has opened the dialogue to a large group of interested parties. It's working with agencies like UNICEF, the GAVI Alliance, the International Telecommunication Union, and the European Commission Directorate-General for Health and Food Safety, and with the input of multi-stakeholder working groups, like one at the World Economic Forum that Elissa Prichep co-leads. She tells Quartz that WHO is expected to come up with "a baseline set of standards and not one universal implementation approach."
Though WHO's 194 member nations will have autonomy over the formats, policies, and providers for Covid-19 health clearances, Prichep underscores the need for coordination. "A harmonized approach is critical in moving toward a post-Covid world," she explains. "That is why it is meaningful that the WHO, as a normative body, provide vaccine credential standards to help ensure a vaccine certificate solution that works across member states and private companies as people return to travel, workplaces and recreational facilities."  

Satisfying the critics
Beyond the health passport's physical form, some skeptics question if a vaccine passport is a sound idea at all. With so many unknowns about the novel coronavirus and the efficacy of vaccines, the WHO says that issuing travel passes is premature, as explained in a Jan. 15 statement.
At the present time, do not introduce requirements of proof of vaccination or immunity for international travel as a condition of entry as there are still critical unknowns regarding the efficacy of vaccination in reducing transmission and limited availability of vaccines. Proof of vaccination should not exempt international travelers from complying with other travel risk reduction measures.
Prichep explains that there's a concern that vaccine passports will further deepen inequity among individuals. "One clear factor for consideration is that not everyone has access to smartphones," she says, referring to about half the world's population. "We must think through how harmonized data standards can be applied across formats such as paper forms with QR code, so member states can implement this program and issue documentation of a vaccine certification in a way that works for anyone, anywhere."
On a state level, experts also warn that introducing a global Covid-19 passport scheme will further underscore the inequality between rich and poor countries who could not afford the mass distribution of vaccines.
And before apps are launched, groups like the UK's Ada Lovelace Institute have come forward to assess the various passport solutions available. "An infrastructure of digitally facilitated personal risk profiling might emerge that, once established, may become a permanent part of our social and global fabric," explained Jonathan Montgomery, an celebrated British health law scholar leading the initiative.
Until these debates are settled and standardization agreed on, infection screening rather than vaccination status, is likely to be the standard of proof for travelers to go anywhere in the near future.

A sampling of Covid-19 health passports under development
Sponsors: The Commons Project Foundation, the Rockefeller Foundation, the World Economic Forum
Format: Smartphone app
Headquarters: US
Sponsor: Linux Foundation Public Health
Format: Software
Headquarters: US
Sponsor: eGov Foundation
Format: Software
Headquarters: India
Sponsor: Danish Ministry of Health
Format: Smartphone app
Headquarters: Denmark
Sponsor: Israel Ministry of Health
Format: Smartphone app, paper booklet
Headquarters: Israel
Sponsor: International Air Transport Association
Format: Smartphone app, paper ID
Headquarters: Canada
Sponsors: IBM, Salesforce
Format: Smartphone app
Headquarters: US
Sponsors: International Chamber of Commerce, International SOS, SGS Group, AOKpass, Perlin
Format: Smartphone app
Headquarters: France
Sponsor: Intoco, Inc
Format: Software
Headquarters: US
Sponsors: Certus, SICPA, KDL Labs
Format: QR, blockchain
Headquarters: Russia, Switzerland
Sponsor: Abbot Laboratories
Format: Smartphone app
Headquarters: US
Sponsor: World Health Organization
Format: Digital certificate
Headquarters: Switzerland
Sponsors: CARIN Alliance, Cerner, Change Healthcare, The Commons Project Foundation, Epic, Evernorth, Mayo Clinic, Microsoft, MITRE, Oracle, Safe Health, Salesforce
Format: Digital wallet, paper cards with QR codes
Headquarters: US
Sponsors: WHO, Estonian government
Format: Smartphone app
Headquarters: Estonia