Difficult times may have forced Americans to scale back on a few expenses, but dog food doesn't appear to be one of them. Not the fancy stuff, anyway.
Dog food sales have just about doubled in the US since 2000. Americans spent a record $14 billion feeding its pet canines last year, and that number is expected to climb another 19% to nearly $17 billion by 2018, according to data from Euromonitor. But no dog food is selling quite like fancy dog food.
The market for premium dog food—the most expensive kinds, including pricey organic offerings and never-frozen meals—has grown by nearly 170% over the past 15 years. It now accounts for a bigger chunk of the market than medium- and low-priced varieties combined. Far more, in fact. So much so, that the most expensive chow now accounts for some 57% of the overall dog food market, compared to the 36% share it held back in 1999.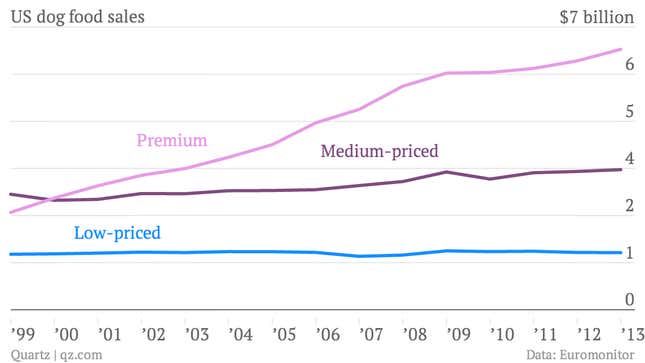 Americans are spending more overall on dog food because they're buying more dogs. There are now more than 83 million dogs in the US. Some 57% of American households now own a dog, according to a 2013 survey by the American Pet Products Association.
The rise in fancy pet food specifically, however, is another story. On the one hand, it's a nod to the nationwide trend towards more natural, and often expensive, foods—for evidence, look no further than the tumble of Colgate-Palmolive's Science Diet brand dog food, which is associated with artificiality. But it's also, more simply, a marker of a growing tendency to treat pets like proper members of the American family. "It is now considered socially acceptable to treat pets as members of the family and to express that by spending lavishly on them, especially when it comes to food," David Lummis, senior pet-industry analyst for Packaged Facts, told the New York Times back in 2012.
That's precisely why new, ultra premium brands, are marked with labels like "human grade," and made in factories alongside canned food for human consumption. Nearly 80% of US pet owners are as concerned about the quality of their pet's food as as they are of their own, according to market researcher Mintel. Some have even seen it fit to simply make multi-ingredient gourmet meals for both themselves, and their dogs.
Of course, not everyone can afford the hefty price tag all-natural dog foods tend to carry. In fact, the fancy pet food boom is being driven, almost entirely, by the dog owning elite. Households with incomes of more than $70,000 accounted for more than half of total spending on pet products in 2010, according market research firm Packaged Facts. Households making more than $100,000 a year now account for about a third of the total market.