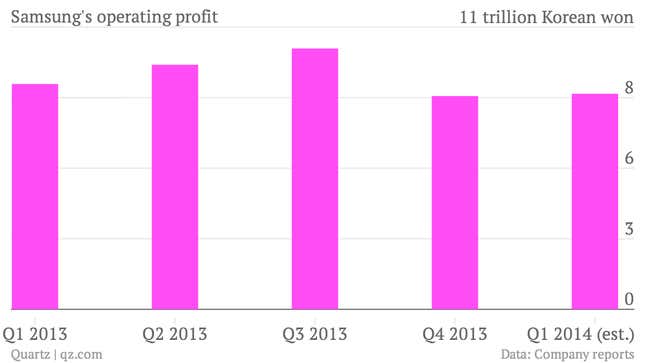 The numbers: Samsung Electronics said April 8 that first quarter 2014 operating profit is expected to be 8.4 trillion Korean won ($7.97 billion), down 4.3% from the same period a year ago. Revenues at the world's biggest smartphone and TV manufacturer are projected to be 53 trillion won, slightly lower than analysts' estimates, as compiled by Bloomberg and Reuters. (Samsung's full audited quarterly results are due on April 25.)
The takeaway: The quarter marks the second in a row that Samsung's year-over-year operating profits have fallen as the market for high-end smart phones maxes out and manufacturers face growing pressure from home-grown emerging market players to make cheaper devices. Samsung rolls out its new flagship Galaxy S5 smartphone on April 11.
What's interesting: Expect Samsung to continue its cost-cutting drive in the year ahead. "Samsung has no way to prevent a decline in its earnings without improving internal efficiencies," an analyst from HMC Investment and Securities told Reuters. Cost-cutting could hit marketing and manufacturing, but Samsung probably won't reap much savings from its executives—their salaries are significantly lower than their counterparts at US tech firms.