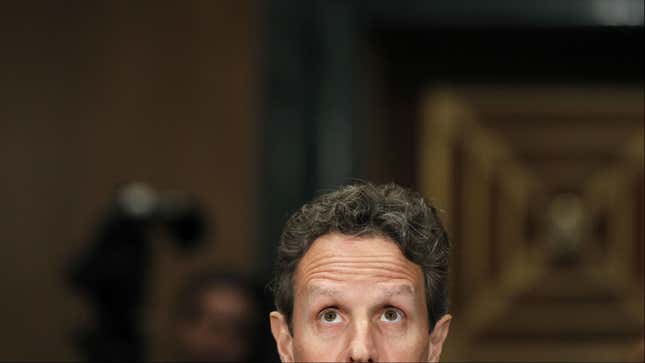 Officials from the US Treasury Department and the Federal Reserve rejected calls to stop linking the LIBOR (London Interbank Offered Rate) benchmark rate to its bailout programs. Christy Romero, a special inspector general for the Troubled Asset Relief Program (TARP), asked Treasury and the Fed this past summer to scrap LIBOR in favor of other reference rates.
She argued that the rate was tainted and put taxpayer money at risk, particularly regarding two TARP programs. Her comments followed the high-profile rate-rigging scandal involving the world's largest banks and leading to a $450 million fine for Barclays and the resignation of the British bank's top people. At the time Romero said:
We can't continue to use for TARP a measure in which there's no confidence or assurance that it's reliable, which could potentially be subject to manipulation.
The Treasury and the Fed have responded that it's not in taxpayers' interest to change things now. Switching rates is disruptive and could harm US taxpayers, while disrupting the work of fund managers who oversee investments in the two TARP programs. Timothy Massad, the Treasury's assistant secretary for financial stability, responded in a letter, saying the Treasury and the Fed lacked…
…the authority to change unilaterally the interest rate on the small number of remaining loans that rely on LIBOR.
If we sought to renegotiate the rate, it is likely that borrowers either would not agree to a rate change or would agree only to a change that would result in a lower payment to the taxpayers.
Poor embattled LIBOR.
The reputation of the rate, which serves as a benchmark on more than $300 trillion worth of loans and financial contracts, is in tatters. Mark Wheatley, the head of the Financial Conduct Authority, whose job is to fix the rate has called it (paywall):
…a broken system built on flawed incentives, incompetence and the pursuit of narrow interests that are to the detriment of markets, investors and ordinary people.
The British Banker's Association, which oversaw the rate, has been stripped of that right and its brand is irrevocably tainted. Meanwhile, there are dozens of lawsuits filed by everyone from pension fund managers to US homeowners, hoping to recover money they say they lost due to manipulations of LIBOR. Even religious organizations are taking shots at LIBOR. A multi-faith coalition in the US says that Americans have been ripped off by the flawed rate, and that ABC and CBS news programs are complicit in covering it up. (paywall).
And so perhaps it's nice to see someone sticking up for the embattled rate.
Or not.
For the record, this is not the first time Romero has questioned government officials handling of TARP. In April, just a month after being appointed to her job, she said in a report to congress that hundreds of small banks couldn't repay their bailout loans (paywall) and that taxpayers were owed billions they would never get back, contradicting government praise of the financial rescue system.