Bill Gross is doing some very public soul-searching.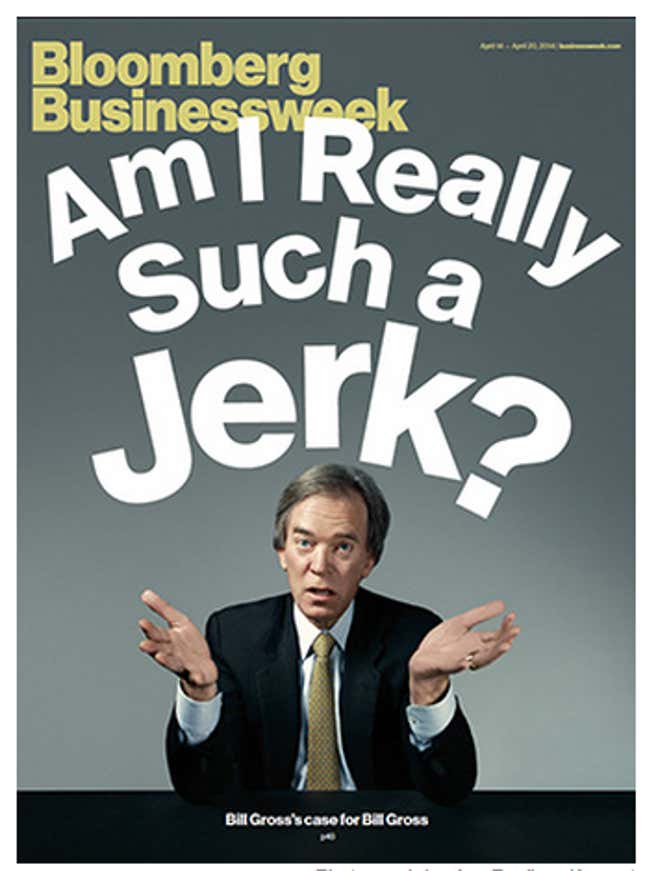 The CEO of the bond fund megalith Pimco participated in a lengthy article in Bloomberg Businessweek, in which he grapples with the damage done to his image in recent months.

"It's been like a near-death experience, an emotional blow," he continues. His nervous press handler sits a few chairs away, unsure what might come out of his boss's mouth next. "Whenever I read the newspaper," Gross says, "I say to myself, 'At least my wife loves me.'"
Gross's personality became a focus of the financial markets following the departure of Pimco's heir apparent, Mohamed El-Erian, in January. The surprise announcement was followed by stories detailing el-Erian's decision, including a scathing Wall Street Journal story that depicted Gross' managerial style in an highly unflattering light.
The stories were juicy. But the real issue with Pimco, the world's largest bond fund, is not personality but performance. The bond market seems to be putting a 30-year bull market in the rear-view window. And Gross, long called the "bond king," hasn't been particularly nimble at navigating the market's turn.
Investors yanked a record $41.1 billion from Pimco's Total Return Fund—which Gross manages—during 2013, after it posted its worst performance in nearly two decades. Some of that is just an asset class story, as investor appetite for bonds—which surged after the financial crisis and stock market crash—appears to be waning. But some of the bad news is specific to Pimco, which has trailed its peers lately.
It's true that anything related to Pimco, an extraordinarily high-profile operation, grabs headlines. And in recent years Gross and el-Erian have been ubiquitous in the financial media, promoting their views on their market and the company as a whole.
But Gross should remember that, as high-profile as he is, what matters is the fund's performance. If that improves, any questions about Gross' personality quirks will almost certainly disappear.