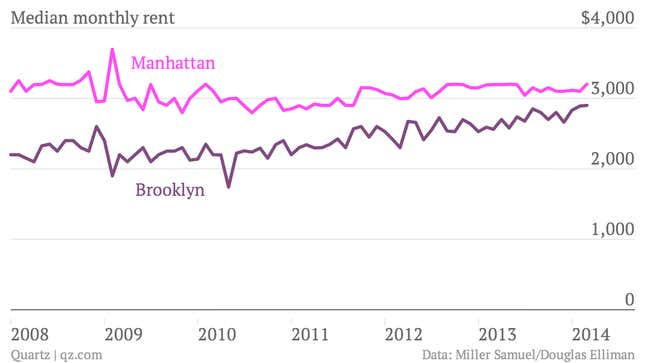 Everyone wants to live in Brooklyn these days, and it's showing in rental prices.
The median monthly rent in north and northwest Brooklyn rose to $2,900 in March, according to estimates by Miller Samuel Inc. and Douglas Elliman Real Estate, which have been tracking the indicator since 2008. That's more than 13% higher than it was last year, 26% higher than it was the year prior, and roughly 35% above what it was back in 2008.
It's also quickly closing in on its once much fancier neighbor, Manhattan. The median monthly rent in New York City's most iconic borough inched up to $3,200 in March, which is less than 0.2% higher than it was last year, and a mere 3% greater than it was in 2008.
"It's not a smooth line, but the convergence between Manhattan and Brooklyn rents is definitely happening," Jonathan Miller, president of Miller Samuel, told Quartz.
It used to cost some $1,000 more to rent an apartment in Manhattan than in Brooklyn (the difference peaked at nearly $1,800 in early 2009). But the spread has fallen so steeply that it now fluctuates between $200 and $300. In February, it cost only $210 more to rent in Manhattan, the smallest difference since Miller began tracking the data.
Call it the price Brooklynites pay, both new and old, for living in a borough increasingly associated with coolness. It's being led by neighborhoods like Williamsburg and Dumbo, where some of New York's most expensive pads can now be found, according to Miller, and if you're trying to find an affordable place in Brooklyn, it's likely only going to get worse.