General Motors has been having a pretty tough time of it lately.
The US auto maker has been beset by an ignition switch scandal, which has forced it to recall up to 2.8 million vehicles this year. The faulty ignition switches, which can cut off power steering and airbags, have been linked to a number of accidents and fatalities. Today, relatively new and under siege CEO Mary Barra placed two senior engineers on paid leave as the company investigates the situation.
The scandal is damaging to GM's reputation and its finances. The company's stock price has fallen by about 18% this year, making it one of the poorest performers in the benchmark S&P 500 index, which is flat over the same period.
But there could be an even bigger problem for the company on the horizon: China.
"GM's current earnings and free cash flow profile have grown highly dependent on the Chinese market where visibility isn't all that great," Morgan Stanley analysts wrote in a note this week.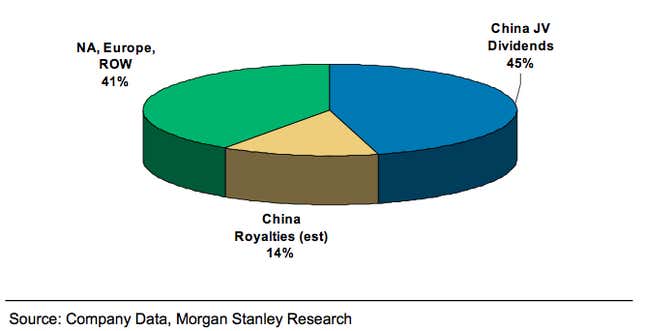 The investment bank estimates that China accounts for nearly 60% of GM's automotive free cash flows, which is higher than just about any other automaker on the planet.
Dependence on China is a problem for a couple of reasons. First there is evidence just about everywhere you look that the Chinese economy is slowing down. Second,  like every foreign automaker operating in the country, GM doesn't have control over its China joint ventures. Finally, and possibly most important, GM's historic rival Ford is only just now about to embark on an aggressive expansion into what is now the world's biggest car market. "Ford's Chinese product portfolio is merely scratching the surface of the market today," the Morgan Stanley analysts write.
GM's  joint venture partners in china sold 3.16 million vehicles last year, an increase of 11.4%. Ford sold fewer than one million. But it has started 2014 on the right foot and Morgan Stanley expects Ford to more than double its market share in passenger cars by 2020. "GM runs the risk of being the largest market share donator to Ford's China growth strategy," the analysts write.
GM's rapid expansion into China has been a major selling point for the company to investors since its IPO. Ironically, now it could be a thorn in its side.