China's March trade data just came out, and it's not pretty—especially after February, when exports sustained their biggest drop since the global financial crisis. March exports fell 6.6% on the previous year, to $170 billion (link in Chinese), while imports dropped a startling 11.3%. That left China with a trade surplus of $7.7 billion—up from February's $23 billion deficit, but less than half of the $18.8 billion 12-month average.
Both declines took analysts by surprise, dealing a blow to hopes that the Chinese economy isn't actually as weak as it has seemed lately. While net exports contribute only a measly share of GDP compared with a decade ago, China needs all the help it can get to even come close to hitting its 7.5% GDP target for 2014.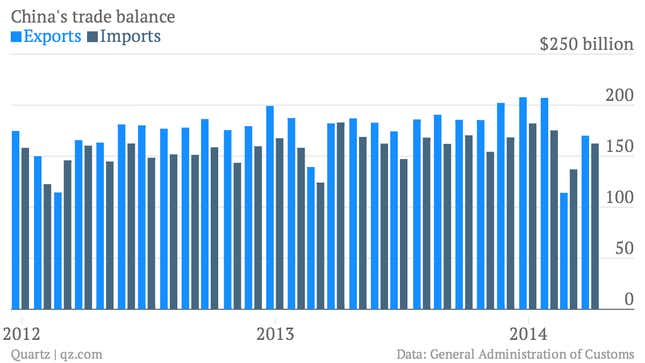 Part of the reason there's so much haze surrounding China's real economic state lately is that data in January and February are distorted by Chinese New Year. March, therefore, is often the first real glimpse of trade trends.
But March doesn't offer complete clarity either; fake export invoicing that surged a year ago may have made 2013's exports look unusually robust, says Zhou Hao of ANZ Bank. "We believe that China's trade growth in the first half would be distorted as the export over-invoicing activities last year have inflated the base for comparison," Zhou told Reuters. "Our field study also shows that the exports are more resilient than what the headline data suggest."
Imports might actually be more worrisome, though, Citigroup's Shuang Ding told the Wall Street Journal, since they indicate that tight credit conditions are dousing domestic demand (paywall). Scarce credit is a particular problem for small businesses, which have been struggling to get the funds they need to grow. Here's a look at the trend for the quarter: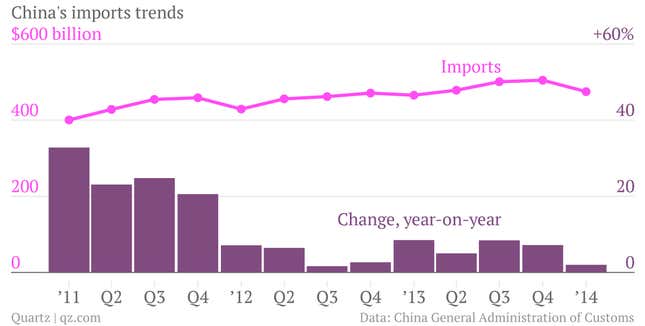 The Q1 data also released today don't make that credit transmission picture look any rosier. The customs report says trade by private enterprises fell 9.1% on the previous quarter, while trade by state-owned companies rose 2%. That said, Q1 imports were distorted by the fact that the first two months of the year saw big bumps in the import of copper and iron ore. Traders imported both types of metal to use as collateral for loans, using the money to invest in short-term, high-yield products like wealth management products (WMPs), before selling it back into the market, as Quartz has reported in the past.
With all these overlapping distortions, it's hard to make out how abruptly the economy is slowing. The government, however, seems sufficiently spooked. Last week, premier Li Keqiang announced stimulus measures including new railways and public housing projects. The government just boosted the railway budget even a bit more, calling for 720 billion yuan ($113 billion) in investment, up from the 700 billion yuan specified last week.