Dr. Copper is looking ill.
Because copper is so widely used in industry, its price has a long-standing reputation as a gauge of global economic activity. (Its utility as an economic bellwether and predictive power earned it the nickname "Dr. Copper.")
But more recently, copper has become deeply embedded in China's financial system, where borrowers have bought up and socked away large supplies of the metal, which is used as collateral for loans.
That's why the recent tumble in copper prices is a bit worrisome. In New York, spot prices for the metal are down 13% this year and more than 4% this week.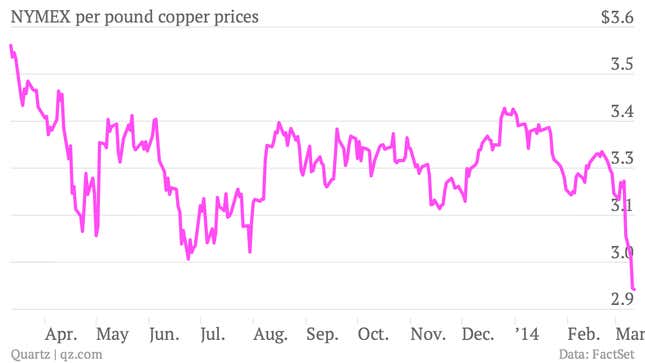 The weakness is clearly tied to worries about China's rickety financial system. Last week a small solar panel maker named Chaori Solar became the first company in recent memory to default on a bond payment. While the company was small, the concern was that the default could set off a domino effect, with lenders pulling back and corporate borrowers unable to roll over their considerable debts.
That would mean a lot less lending from banks. And if banks aren't lending, they don't need collateral. And then all the copper that has been locked up in warehouses could come back onto the market, driving supplies higher and prices lower.
"Copper was Bitcoin for China. The game's over," Herbert Black, owner of Canadian scrap metal merchant American Iron & Metal, told Reuters. "There's a huge excess of copper that's just not needed."