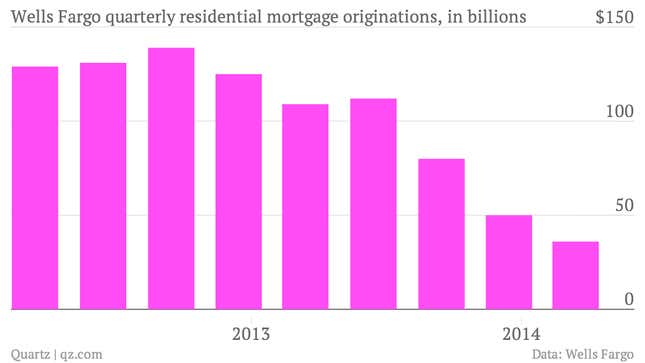 The numbers: Pretty good, despite the fact that Wells Fargo's residential mortgage originations (i.e., mortgages on new homes and refinancing of existing ones) tumbled 67% compared to the first quarter of 2013. Even so, the bank's net income rose 14% to $5.89 billion.
The takeaway:
 Despite the tumble, Wells is still the biggest US mortgage lender, and thus a key gauge of the health of the mortgage market as a whole. A rise in mortgage rates that started in May 2013—when the Federal Reserve first raised the prospect of cutting back on its monthly bond-buying program—choked off a refinancing boom that Wells had ridden, giving it strong revenue growth for several years. Perhaps because of the poor weather this winter, the slowdown has really hit in recent months, with a sharp decline overall mortgage originations
.
What's interesting: The profitable refinancing boomlet for US residential real estate might be done and dusted. But instead of American demand for consumer credit isn't dead. Wells Fargo reported a record level of consumer auto lending during the first quarter, which rose 15% over the prior year to $7.8 billion.