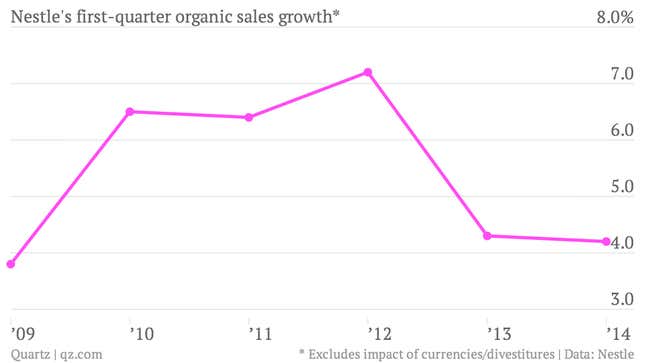 The numbers: Soggy. Swiss food giant Nestlé reported a 5% fall in first-quarter sales today. This is less downbeat than it looks, as the strong Swiss franc subtracted nearly 9% from the company's reported results. Still, even after stripping out currency effects and other one-off factors, underlying "organic" sales grew by only 4.2%. This was the slowest first-quarter pace since 2009 and short of the company's 5% organic growth target.
The takeaway: Nestlé eked out organic growth of less than 1% in developed markets, which account for 55% of the group's sales. Emerging markets grew by nearly 9% in the quarter, so it's no surprise that these will receive more attention in the future. Nestlé confirmed its target for 5% overall organic growth this year, which means it has its work cut out to accelerate sales in the coming months. The company's shares are flat today, but the bar has been raised for it to deliver better results in the future.
What's interesting: Nestlé executives usually name-drop a wide range of brands when discussing results, lest any members of their product family feels left out. But two categories came up again and again in the group's latest results: coffee and pet food. Instant coffee products are performing well in South America and Eastern Europe, while the latest generation Nespresso and Nescafé Dolce Gusto coffeemakers are apparently flying off shelves in the US and Western Europe. And as we have highlighted recently, consumers seem unable to skimp on their pets, even as they trade down to cheaper food for themselves. Across Nestlé's regions, pet products were cited as star performers—pet care sales comfortably outpaced the group's overall growth, making up for declines in human-centric luxuries like ice cream and prepared convenience foods.