Good news for Brits looking for jobs: In the three months through February, unemployment fell to 6.9% in the UK, its lowest in five years (although it still remains quite elevated by pre-crisis standards).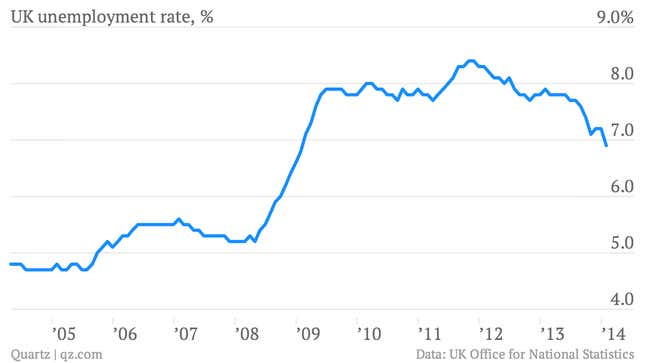 The turnaround in the UK job market is showing something really important: wage growth. Wages rose 1.7% in the period, matching February's inflation rate and outpacing March's. In other words, for the first time in six years, workers didn't get a stealth pay cut.
British workers have endured a serious decline in living standards over the last few years. And they're not happy about it. Prime minister David Cameron's Conservative-led coalition government has trailed in the political polls consistently in recent months.
Now the UK labor economy is showing signs of a stronger pulse. But Cameron's political survival in the general elections slated for 2015 will come down to a footrace between economic and polling data. It may come down to the wire.